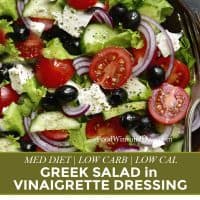 Print Recipe
Easiest Greek Salad in Vinaigrette Dressing
This recipe really is the Easiest Greek Salad in Vinaigrette Dressing that you can find. It is also delicious and Mediterranean Diet Friendly.
Romaine Lettuce- 1 head

rinsed and cut into pieces.

Cucumber- 1 large

sliced.

Red Onion- 1

sliced really thin.

Kalamata olives – 1 cup

pitted.

Tomatoes- 1 pint. The preferred tomatoes to use are cherry or similar sized tomatoes. Cut your tomatoes in half as well.

Feta cheese – ½ cup cut into chunks.

Seasonings as desired

parsley, oregano, etc.

Optional- peppers such as green or red. 1-2 sliced.

For the dressing.

Extra Virgin Olive Oil – ½ cup.

Red Wine Vinegar– ¼ cup.

Dijon mustard – 1 teaspoon.

Dried Oregano-1 teaspoon

Garlic Powder– 1 teaspoon

Dried Basil– 1 teaspoon

Onion Powder– ½ teaspoon

Kosher Salt– 1 teaspoon

Pepper– ½ teaspoon
Place your chopped romaine lettuce into your bowl.

Next, arrange the remaining salad ingredients on top. However, if you decide to add any additional seasonings, you can wait until your salad is prepared to thus place this on top.

Now, in a bowl or container, combine together the vinaigrette dressing ingredients.

Whisk these ingredients together until they are well blended. Then pour this over your assembled salad. Feel free to toss the ingredients together before serving.



As mentioned, you will need Kalamata olives for this recipe.
This is a black (or sometimes brown) Greek olive that is synonymous with this salad. You will also need Feta cheese.
You will also need a few ingredients for the vinaigrette dressing that foes on top or tossed into the salad.
Those needed ingredients include. extra virgin olive oil with a tangy red wine vinegar. Also need in this recipe will is a bit of Dijon mustard that will be whisked in .
For the dressing.
*As an Amazon Associate I earn from qualifying purchases. This means that the links on this website, and specifically on this post, that lead to other sites may be affiliate links.
Serving:
1
bowl
|
Calories:
300
kcal
|
Carbohydrates:
12
g
|
Protein:
4
g
|
Fat:
20
g
|
Saturated Fat:
5
g
|
Fiber:
6
g
Please note: Nutritional data has been calculated using a tool that comes with this recipe card and not by me. This means that Nutritional Information is only an estimate and can vary especially with ingredients that you use. The accuracy of this tool may differ from other tools as expected. Also note that there is no instructional value to the video that may be attached to this recipe. It is only there for visual pleasure. For more information about the images in this recipe, please refer the the recipe instructions. Thank you!
---
Follow Me