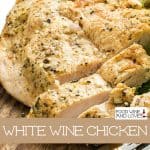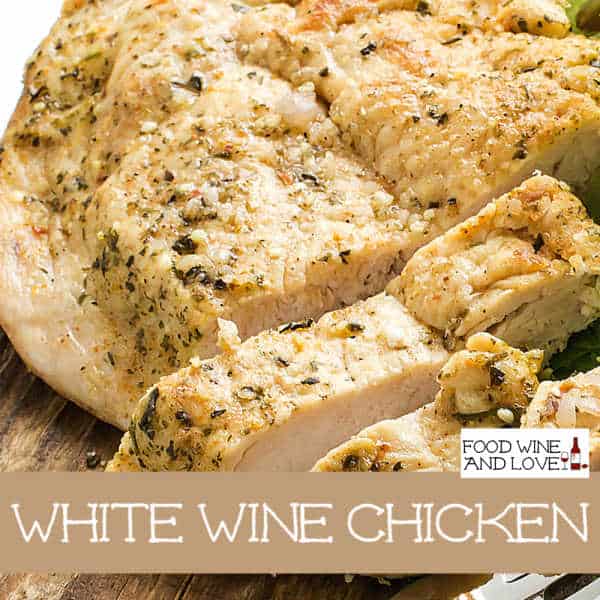 Print Recipe
White Wine Chicken
This easy to make chicken recipe is quick and delicious. The flavorings are influenced by the wine that is added. This is how to make White Wine Chicken.
Butter- 3 tablespoons.

Garlic- 2 cloves minced or chopped.

Chicken Breasts– 4 skinless and boneless.

White Wine- ½ cup. As mentioned above

the best white wines for this recipe include the dry ones. Pinot Grigio, Sauvignon Blanc, and Chardonnay would be my choices.

Seasonings such as salt and pepper- add these to taste. The amount that you add should have something to do with both your personal taste and also balancing out the flavors of your wine.

Oregano- 2 teaspoons. Use the dried oregano if you prefer to.
Heat your butter and garlic on medium to medium high heat in a large skillet. Stir this mixture as needed to prevent burning and to evenly cook the garlic.

Next place the chicken breasts in to the skillet. The chicken should be spaced evenly aprart from one another.

Pour the wine over the chicken breasts and then top with your seasonings.

Continue to cook the chicken until it is fully cooked. This should take about 10-12 minutes per side depending on the heat of your skillet. Be sure to flip the chicken midway through cooking so that if cooks fully. You can also spoon the juice from the skillet over the chicken as it cooks to ensure that it stays moist.

Serve this with a salad or over rice or how you moist enjoy to serve it.



*As an Amazon Associate I earn from qualifying purchases. This means that the links on this website, and specifically on this post, that lead to other sites may be affiliate links.
Please note: Nutritional data has been calculated using a tool that comes with this recipe card and not by me. This means that Nutritional Information is only an estimate and can vary especially with ingredients that you use. The accuracy of this tool may differ from other tools as expected. Also note that there is no instructional value to the video that may be attached to this recipe. It is only there for visual pleasure. For more information about the images in this recipe, please refer the the recipe instructions. Thank you!
---
Follow Me