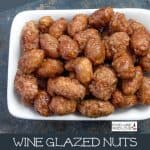 Print Recipe
Wine Glazed Nuts Recipe
Take your sugar coated walnuts, peanuts, walnuts or other nuts of choice up a notch with this really easy recipe for Wine Glazed Nuts Recipe.
Egg White-1.

Brown Sugar- ½ cup

packed

Wine- 1 tablespoon

please see above for suggestions.

Nuts- 1 pound. Larger nuts

such as walnuts, should be in halves. However, peanuts are a good size as they are.

Salt- ½ teaspoon. You can omit this if you are using salted nuts.

Optional -powdered sugar for dusting.
Preheat your oven to 350 and ore your cookie sheet for nonstick. Be sure to use a cookie sheet with sides . For prepping, you could simply use baking nonstick spray. However, I am personally a fan of parchment paper as I like an easy transfer and clean up.

In a large mixing or similar bowl, beat your egg white. You want your egg white to be beaten until it appears to be foam-like.

Stir in the wine, nuts, and salt. I mentioned earlier that if you are using salted nuts then you can omit the salt if you desire to.

When the nuts seem to be well-coated, you can transfer them to your prepped cookie sheet from the first step. Make sure that you evenly spread out the nuts on the pan.

Bake these nuts for 26-30 minutes or until they appear done without burning. I suggest stirring them every 10-15 minutes to make sure that they bake evenly and do not burn.



As mentioned, you can certainly choose the nuts that your prefer to use in this recipe. Peanuts seem to always be a popular nut of choice for folks to eat.
Or, you could choose to use cashews, walnuts, or even mixed nuts.
Also, you will need to use a wine in this recipe.
I personally would recommend something from the red wine variety.
For a flavorful wine taste in your nuts, try adding a medium wine such as Cabernet Sauvignon, Merlot, or even a Zinfandel.
But, if you really want to jazz up the sweet taste in your recipe, try a really sweet wine such as a Port wine or Ice Wine.
*As an Amazon Associate I earn from qualifying purchases. This means that the links on this website, and specifically on this post, that lead to other sites may be affiliate links.
Please note: Nutritional data has been calculated using a tool that comes with this recipe card and not by me. This means that Nutritional Information is only an estimate and can vary especially with ingredients that you use. The accuracy of this tool may differ from other tools as expected. Also note that there is no instructional value to the video that may be attached to this recipe. It is only there for visual pleasure. For more information about the images in this recipe, please refer the the recipe instructions. Thank you!
---
Follow Me