This recipe for Easy Chicken Foil Packets is perfect for any time of the year.
Using aluminum foil makes the chicken taste so much better as well.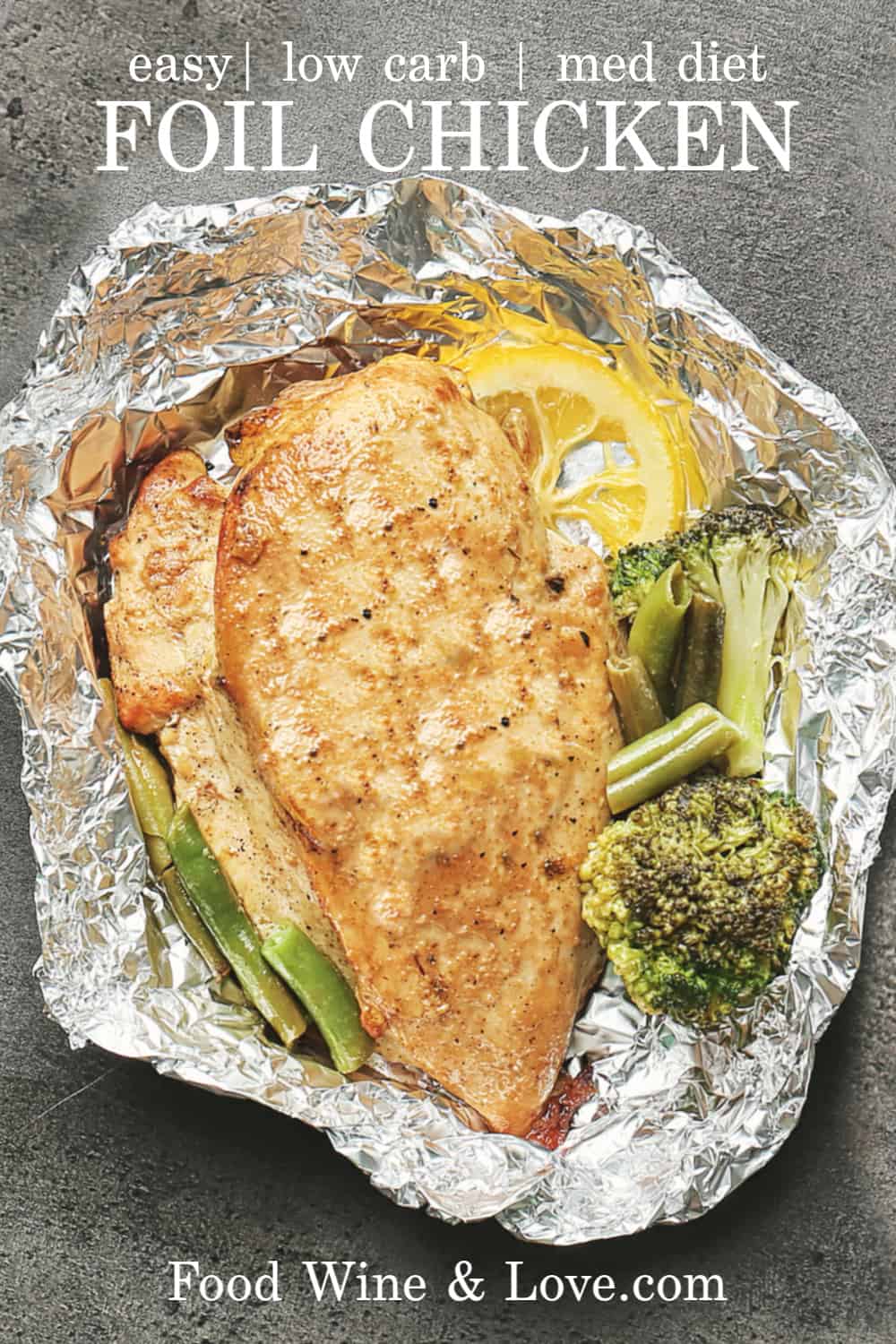 Easy Chicken Foil Packets
I call this 'easy' because making great tasting chicken could not be easier than this.
Using foil makes the chicken taste even better because it helps seal in the moisture.
This is a great meal idea especially for someone who wants to plan ahead.
What I mean is that you can easily prepare this chicken in the foil and refrigerate or marinate it. However, when you are ready to make this, all that you need to do is pull the foiled chicken out of the refrigerate it.
Adding vegetables to the foil makes the taste of everything even better too.
Not only do the vegetables cook in the juices from the chicken, they also help to season the chicken.
Well, and let us not forget the convenience of having the vegetables already presented with the chicken when it comes to serving tour tasty meal.
To be honest, you really do not have to limit things to just vegetables and chicken.
Certainly, adding a wedge or slice of fruit to the packet can also add a bit of flavoring.
My choice for a fruit to add to this recipe would be something citrus such as a slice of lime or lemon.
When I said that this recipe is an easy one, I really did mean it.
This chicken recipe is made even easier thanks to a few 'cheats'. I should mention my disclosure here concerning my affinity for cheats as they are a way to make me life easier without risking a lot of quality.
For starters, I like to make my life easier by using pre-cut foil sheets.
I have a box of these already cut to size pieces of foil sitting by my toaster oven. They help everyone keep things easier to clean up if anything. I also like not having to fiddle around with a roll of foil trying to cut pieces to size.
Here are a few more cheats for these healthy chicken foil packets.
Buying your chicken breasts instead of the entire chicken is certainly one way to make your life easier, as you probably already know.
However, another great idea would be to place each individual breast in its own foil with marinade and then freezing it away will make your life easier later on when you decide to make these at another time. Especially when you are going camping or on the road as you can bring the frozen chicken with you.
My favorite cheat, well at the moment, is the marinade that we will use for this easy chicken recipe.
Sprinkling Italian salad dressing over the chicken, and the vegetables, in the foil is a great way to marinate and cook the chicken with some flavor. You could certainly use another salad dressing such as a vinaigrette if you desire.
This really is one of those easy foil wrapped chicken breast recipes.
You can make it over a campfire or on the grill during the warm weather season. But, you could simply make these in oven any time of the year as well.
By the way, while you are here you may also be interested in these ideas.
Be sure to follow me on Pinterest Facebook and Instagram.
Also, subscribe to my weekly newsletter!


–KEEP SCROLLING–
Easy Chicken Foil Packets
As mentioned above, adding Italian salad dressing over the chicken, and the vegetables, in the foil is a great way to marinate and cook the chicken with some flavor. You could certainly use another salad dressing such as a vinaigrette if you desire.
I also suggest using pre-cut foil sheets.
Pre-cut foil sheets take out the trouble of having to cut down rolled out foil to size. Also, they make it easy to store, cook, and serve the chicken as well.
Here is what you will need to make this recipe for Easy Chicken Foil Packets.
Chicken Breasts- 4 boneless and skinless (about a pound total).
Vegetables such as broccoli or potatoes- 3/4-1 cup per foil packet (3-4 cups total) cut up. This total can vary depending on the size of your foil pieces and how much they can hold. Mixing up your variety of vegetables is a good idea too.
Citrus fruit- 1-2 slices per packet. I am thinking about lemon or lime slices.
Italian salad dressing– 2 cups total.



………
Here is how to make these Easy Chicken Foil Packets.
Start by preparing your foil squares. You can cut your squares (12X18″ works well) or use pre-cut foil sheets. If you are making this chicken in an oven, please pre-heat your oven to 350. Also, place an additional piece of foil flat on a baking sheet to bake these on. Otherwise, heat your grill or campfire as you normally would.
I like to lightly spray each piece of foil with nonstick before I place the ingredient on them to cook.
To assemble your first packet, place the chicken breast in the center of the piece of foil. Then use a spoon to drizzle a small amount of dressing on both side of the chicken (obviously, you will need to flip the chicken over to do this).
next, place the remaining ingredients in the packet and cover with the remaining dressing. Each packet should get 1/4 cup of dressing total. However, if you go over or under this amount, you will probably be fine.
Bring the longest edges of the foil together, leaving a bit of room over the food, and seal them by folding them over a couple of times. Repeat this process until your packets are complete. At this point you can refrigerate, freeze or cook your chicken.
In the oven, place each packet on the prepared baking sheet and bake for 40-45 minutes or until the chicken is cooked completely. Over the fire, the cooking time can vary depending on the heat however, medium heat can take around 30 minutes for the chicken to cook through. Take care when opening the packets to eat as there could be a burst of heat or steam when you do so.
Thanks so much for visiting!
If you decide to make this recipe, please stop back and let me know how it turned out for you. Also, if you have any tips or tweaks to the recipe to share, please do so in the comment section below. My readers also like to stop by periodically for updates on the recipes however. Thus, reading the comments below is helpful to these readers and hopefully to you too!!
Looking for a recipe that is not on my site?
Please let me know and I will on getting that recipe for you.
Happy baking, eating, and enjoying life!
Nutritional Information is only an estimate and can vary especially with ingredients that are used.
This recipe for Delicious and Easy Chicken Foil Packets include vegetables and are perfect for your next campfire or barbecue dinner.
[mv_create title="Easy Chicken Foil Packets" key="42″ type="recipe"]