This really is one of the The Best Easy Italian Bruschetta recipes I have ever tasted.
I like how easy it is to make as well!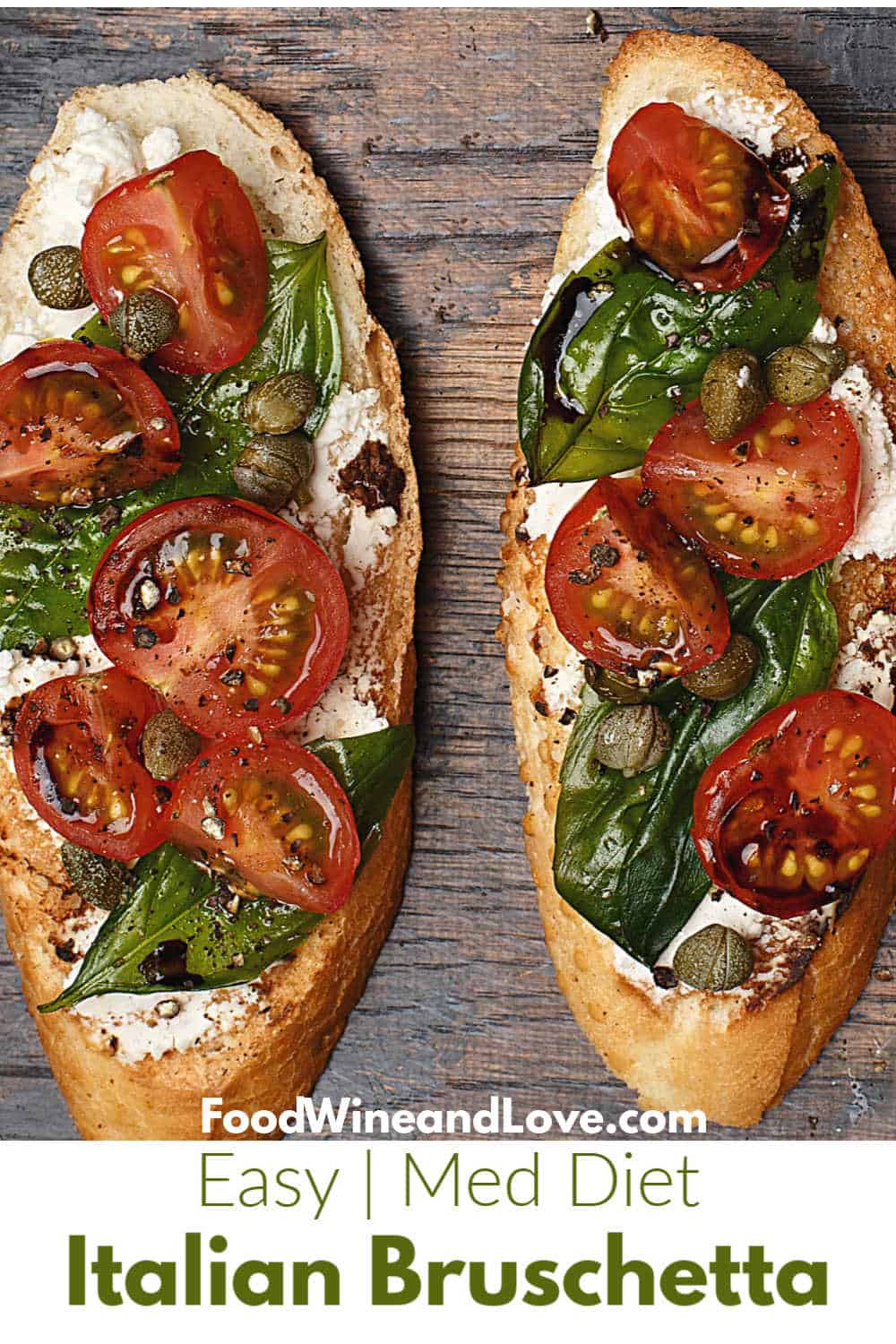 The Best Easy Italian Bruschetta
I say that this is the "best" because it really is so delicious tasting.
What makes it so delicious is the wonderful blend of tastes that come together in this recipe.
Bruschetta really is the perfect appetizer recipe to make.
Everyone seems to agree upon this great tasting food because it is so good.
Also, you could certainly serve bruschetta any time of the year as well.
What makes this the best bruschetta recipe is how true it is to its Italian roots.
Like a true bruschetta, this one features the great taste of tomatoes along with a great cheese.
Both the tomatoes and the cheese are also Italian.
I am talking about a great bruschetta with mozzarella cheese.
What could really be more Italian in taste than a great tasting mozzarella?
True Italian mozzarella is actually made from buffalo milk, or so I have been told. However, you may only have the cow milk version of this cheese and that too is okay in this recipe!
I mentioned a moment ago that this Italian Bruschetta is made with Italian tomatoes.
There are many varieties of Italian tomatoes to choose from.
However, I tend to go for the Roma tomato variety or cherry sized tomatoes because they will fit better on your bread.
Basil is another essential ingredient in this recipe.
This herb is often synonymous with Italian cooking. I personally like how easy it is to grow and use in recipes.
Capers are an optional ingredient that I have added to this recipe.
These flower buds, yes flower buds, offer a great balance in taste in this recipe.
Look for the 'brine' variety of capers in for this recipe if you are planning on using capers as well.
It is customary to top this bruschetta with something wet.
Balsamic vinegar is one great choice to top this appetizer with as it goes well with the ingredients that will be covered with it.
However, you could just go with a simple olive oil instead.
The big cheat, or essential ingredient in this recipe is the bread that you use.
An Italian bread such as a simple baguette is a good choice.
Even better however, is something that is crusty enough to hold the ingredients in place.
By the way, while you are here you may also be interested in these ideas.
Be sure to follow me on Pinterest Facebook and Instagram.
Also, subscribe to my weekly newsletter!


–KEEP SCROLLING–
The Best Easy Italian Bruschetta
As mentioned, you will need mozzarella cheese. However, you could use any creamy white cheese that does not have a strong taste instead. Some folks even use a spreadable cream cheese in this recipe.
There are a few other ingredients that you will need as well.
You can choose from a variety of Italian tomatoes to use in this recipe. I suggest using a smaller variety such as Roma (plum) tomatoes or a cherry sized tomato for an easy recipe such as this one.
What you will need to make The Best Easy Italian Bruschetta



………
How to make The Best Easy Italian Bruschetta
Start by toasting or grilling 1/2″ slices of the bread that you have chosen to use. Using a broiler is another option as well. Remove the bread from the heat and spread the garlic over it. Omit the garlic if this is too robust for your taste buds.
If using your mozzarella cheese as or other cheese as a spread, spread this on the toasted bread as a base for the other ingredients. Otherwise, skip to the next step.
In a medium sized bowl, toss together the cheese (if not used as a spread),Olive Oil, tomatoes, basil, and capers. Then distribute this over the bread.
Drizzle the vinegar or additional olive oil over the bruschetta and serve.
Thanks so much for visiting!
If you decide to make this recipe, please stop back and let me know how it turned out for you. Also, if you have any tips or tweaks to the recipe to share, please do so in the comment section below. My readers like to stop by periodically for updates on the recipes. Reading the comments below is helpful to these readers and hopefully to you too!!
Looking for a recipe that is not on my site?
Please let me know and I will on getting that recipe for you.
Happy baking, eating, and enjoying life!
Nutritional Information is only an estimate and can vary especially with ingredients that are used.
This really is about the The Best Easy Italian Bruschetta recipes that you will ever taste. You will like how delicious it is!
[mv_create key="36″ type="recipe" title="The Best Easy Italian Bruschetta" thumbnail="https://foodwineandlove.com/wp-content/uploads/2019/05/bruschetta600.jpg"]