How to make The Best Ever Texas Caviar.
The good news is that it is pretty easy to make it too!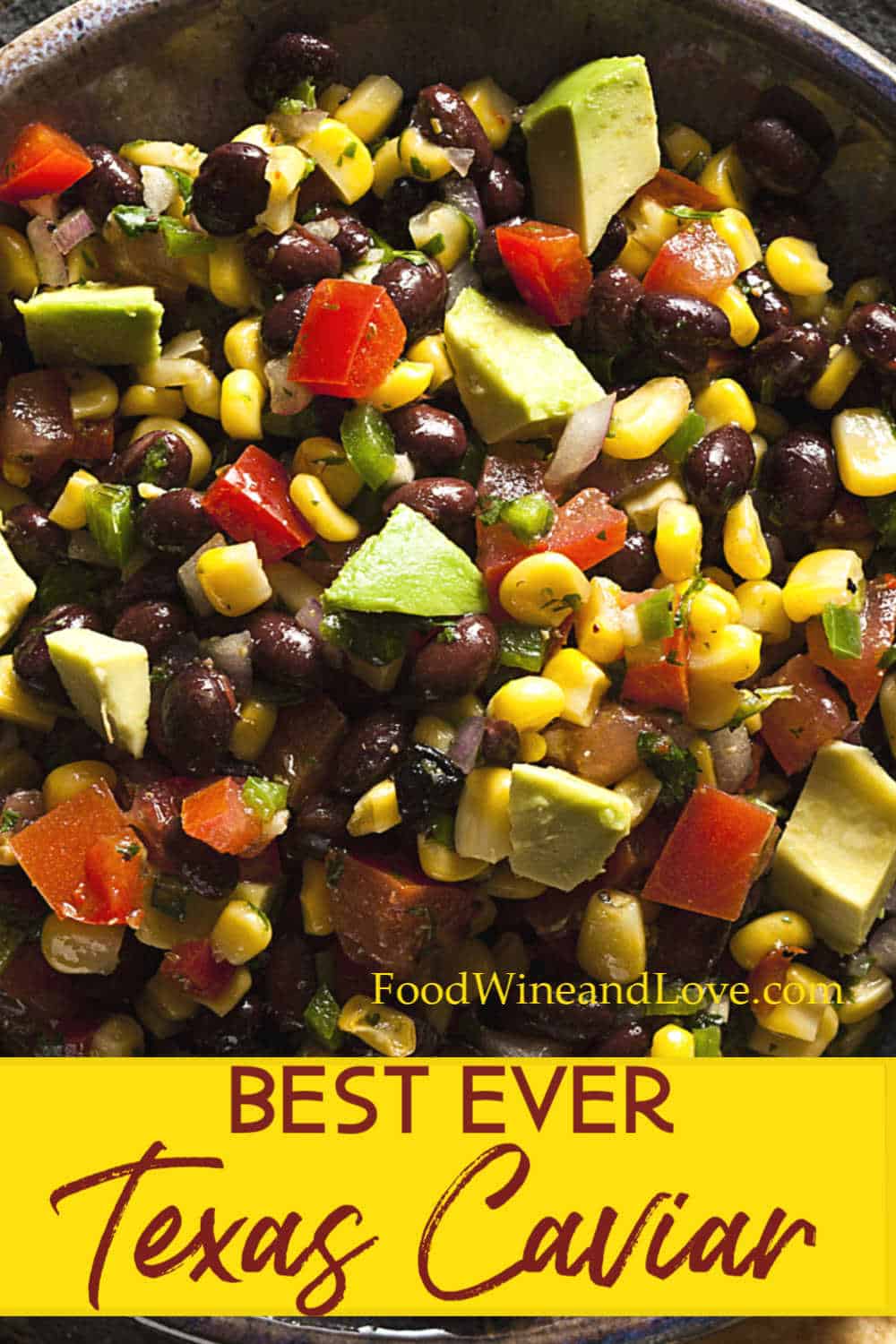 The Best Ever Texas Caviar!
This is one of those essential picnic or barbecue dishes.
That is because it is both tasty and popular to eat.
The best part about making this dish is that it is really easy to make.
Sure, the recipes for this may vary but, every recipe for Texas Caviar seems to have the same basis.
By basis, I mean the same backbone or kind of ingredients.
What makes this recipe so good is the extra ingredients that are added to it.
While you may expect to taste a few ingredients that are in this, you may be surprised at other ingredients.
However, you will most likely be pleased in this dish as a result.
I might also add at this time that this dish is not the same as the famous Texas Caviar from the Pioneer Woman.
Not that there is anything wrong with that one as it is a pretty good recipe at that.
Also, even though it has 'caviar' in this recipe, it is by no means includes a fish or eggs from one as well.
I will say that this Texas Caviar is healthy by definition.
That is, this recipe included no processed foods. You can easily identify each ingredient and the list of ingredients that come with it.
I will also add that this recipe turns out as a pretty colorful presentation as a result of those ingredients.
I will also say that this recipe would be Weight Watchers friendly.
There is no sugar added to the healthy ingredients in this.
Also, this recipe is friendly to other diets such as gluten free diets and of course the Mediterranean Diet.
I have always wondered, what is Texas Caviar anyway?
What I mean is that it really not a main dish while served alone. However, you could certainly eat this in a tortilla or pocket and make it into a main course.
I tent to refer to this as an appetizer.
Sure, you could refer to Texas Caviar as a salsa, dip, or side dish too.
However, as long as it is served alongside of some chips or something else great to dip into it, I am not picky about how the
results of this recipe are categorized.
You will need a few ingredients that you may not already have sitting in your cupboard to make this recipe.
Black Beans are an essential ingredient in this recipe. However, you could substitute in black eyed peas for the entire black bean amount or mix it up with half black beans and half black eyed peas. Also, canned corn
By the way, while you are here you may also be interested in these ideas.
Be sure to follow me on Pinterest Facebook and Instagram.
Also, subscribe to my weekly newsletter!


–KEEP SCROLLING–
The Best Ever Texas Caviar
As mentioned, Black Beans are an essential ingredient in this recipe. However, you could substitute in black eyed peas for the entire black bean amount or mix it up with half black beans and half black eyed peas. Also, canned corn.
Serving this Texas Caviar is an easy one as well.
I mentioned that you could serve this with some chips on the side or as part of a wrap.
However, I also have a recipe for Salted Chickpea Chips that would work well.
Here is what you will need to make The Best Ever Texas Caviar.
Black Beans – two 15-16 ounce cans. However, you could substitute in Black Eyed Peas Make sure that you rinse and drain these before adding them to the recipe.
Canned Corn– one 15-16 ounce can, drained.
Red Pepper- 1 chopped.
Onion- one small (I prefer sweet) onion chopped or 1-2 green onions chopped.
Garlic– one clove minced.
Cilantro- chopped (quantity as needed).
Olive Oil– 1/2 cup. However, you could alternatively use Italian Salad Dressing, or salsa a combination of the choices.
Lime Juice- 1 tablespoon.
Avocado- 1, chopped.
Seasonings as desired.
The Best Ever Texas Caviar, how to make this.
The majority of this recipe can be made ahead. However, I would add the chopped avocado just before serving to prevent having to serve this Texas Caviar with any avocado pieces that may have turned brown. You can also add the part or all of the cilantro at this time as well.
As mentioned above, make sure that your beans or peas have been rinsed and drained before making this recipe. Once they are drained you can begin making this recipe.
In a large bowl, combine together the beans, peas, canned corn (also drained well first), chopped red pepper, chopped onion, and the minced garlic. Mix or toss these together well.
Next stir in the cilantro and olive oil (or Italian dressing/salsa). I suggest reserving a bit of the cilantro to use as a garnish to use when serving this as well.
Refrigerated this covered for at least an hour. When you are ready to serve this, toss in the avocado and any desired seasonings (salt, pepper etc) and top with remaining cilantro.
Serve with some great dipping chips.
Thanks so much for visiting!
If you decide to make this recipe, please stop back and let me know how it turned out for you. Also, if you have any tips or tweaks to the recipe to share, please do so in the comment section below. My readers like to stop by periodically for updates on the recipes. Reading the comments below is helpful to these readers and hopefully to you too!!
Looking for a recipe that is not on my site?
Please let me know and I will on getting that recipe for you.
Happy baking, eating, and enjoying life!
Nutritional Information is only an estimate and can vary especially with ingredients that are used.
This is really The Best Ever Texas Caviar because it has some of the tastiest ingredients combined together to make this great dish.
[mv_create key="37″ type="recipe" title="The Best Ever Texas Caviar" thumbnail="https://foodwineandlove.com/wp-content/uploads/2019/05/caviar600.jpg"]