This recipe for Easy and Delicious Lemon Granita is perfect for this time of the year.
I like that this granita is so easy to make!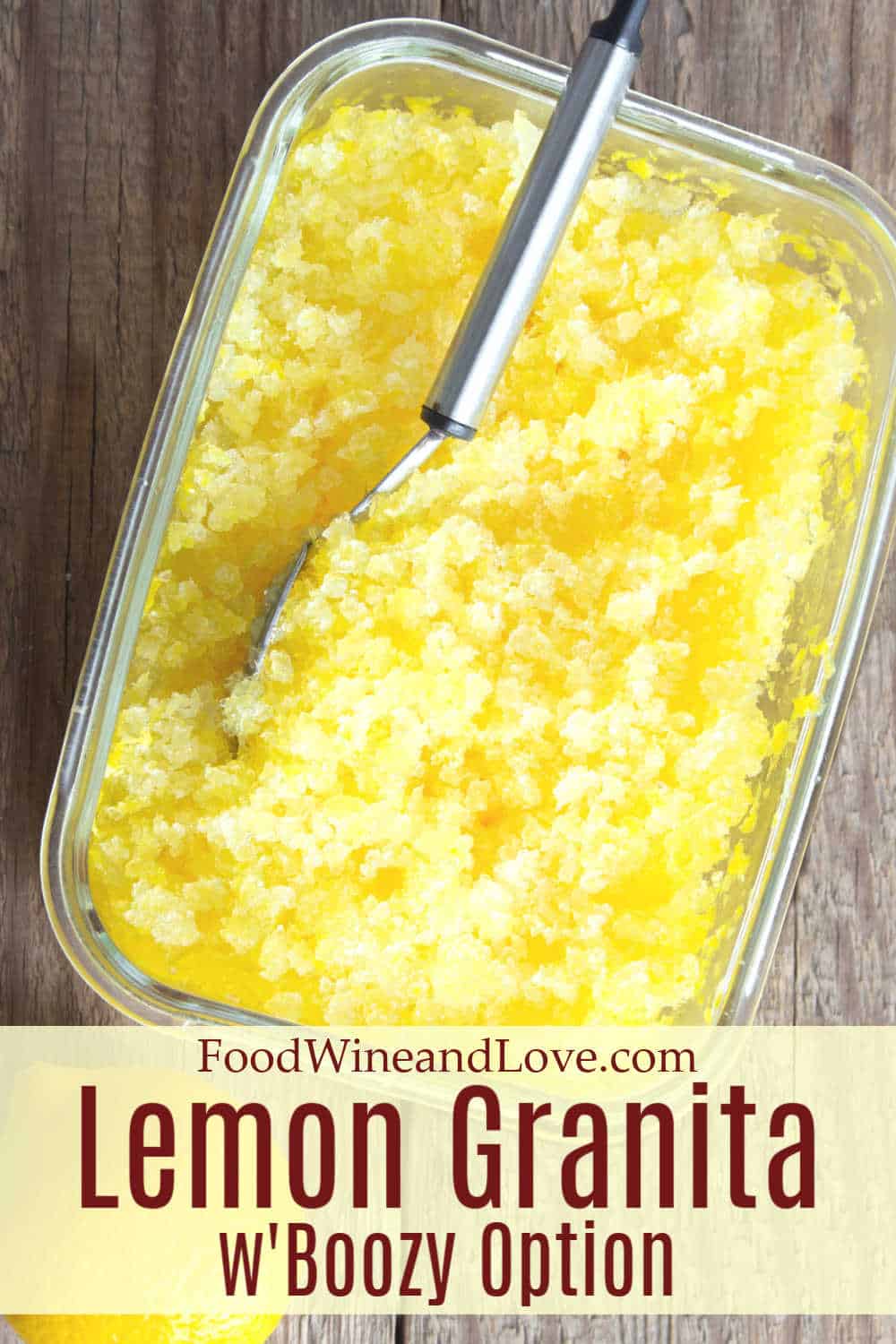 Easy and Delicious Lemon Granita
This frozen summer treat reminds me a lot of a frozen lemonade that you can eat with a spoon.
The only difference is that Granita is actually made to be eaten with a spoon and not enjoyed through a straw.
I must say that I am a huge fan of drinking lemonade.
My lemonade is usually made from a mix and served over ice. A lot of the time I will throw in a slice of a lemon in order to get a more authentic lemon taste.
Granita that famous Sicilian dessert that is made with fruit and sugar.
You could certainly add a few more ingredients to your granita recipe.
However, since granita is made by dissolving sugar in a saucepan, sugar is an essential ingredient to the recipe.
Fruit is essential to a granita for taste, texture, and color.
All three of these elements are important to your granita as well.
As a result, the fruit that you choose for your granita is important to your dessert for more than one reason.
There truly is a difference between Granita, Sorbet and Italian ices.
While many people simple see all three as a frozen and fruit tasting treat, they are not exactly the same thing.
What matters more than anything in comparing these treats is the texture of them and most notably, the ice.
Granita is famous for its course and chunky texture.
This texture reminds me of of snow cone in many ways. However, a snow cone is made with two ingredients being ice and syrup.
The difference between a granita and sorbet is certainly in their texture.
That granita is chunky in texture and each chunk is celebrated like a puzzle piece to the whole puzzle.
However, sorbet is a creamy textured treat that is more about enjoying the smooth taste as a whole rather than the individual pieces.
I will say that both granita and sorbet are made with sugar and fruit.
Also, to make recipes even more interesting, you could add a bit of cream to your sugar and fruit. Your recipe result of doing so would resemble a yummy gelato.
I must also include the option of substituting a bit of alcohol in your ingredients to make this even more fun for some folks.
While I am a fan of wine, I would agree that not every wine is suitable to be matched with lemon. In the case of lemon, I would stick to a Chardonnay or perhaps a Sauvignon Blanc depending on how tart you want your granita to be and how much sugar you like in it.
By the way, while you are here you may also be interested in these ideas.
Be sure to follow me on Pinterest Facebook and Instagram.
Also, subscribe to my weekly newsletter!


–KEEP SCROLLING–
Easy and Delicious Lemon Granita
As mentioned, while I am a fan of wine, I would agree that not every wine is suitable to be matched with lemon. In the case of lemon, I would stick to a Chardonnay or perhaps a Sauvignon Blanc depending on how tart you want your granita to be and how much sugar you like in it.
Since this is an 'easy' recipe I am using lemon juice in the ingredient listing.
However, if you are feeling like using real lemons, simply use freshly juiced lemons. Five to six lemons, depending on their size, should yield you the amount of lemon juice that is needed for this granita recipe.
Here is what you will need to make this Lemon Granita recipe.
Sugar– 2/3 cup of granulated sugar. Unfortunately, a sugar free alternative such as Sucralose, will not work in this recipe as it is written.
Water- 1 1/4 cup. As mentioned, if you are using wine, simply sub the wine in for the water. For best results, use both wine and the water to reach that 1 1/4 cup rather than all wine.
Lemon Juice – 2/3 cup. This is equivalent to 5-6 lemons, depending on their size, if you are wanting to squeeze your own lemon juice.
Optional- Thyme. 2-3 sprigs (about a teaspoon).
Here is how to make your Easy and Delicious Lemon Granita.
Use a square or rectangular baking dish. A glass or metal one will work in this recipe.
Meanwhile, in a medium sauce pan on medium to high heat, combine together the granulated sugar and the water. Bring this to a boil and stir continuously. It should take about four to five minutes for your sugar to fully dissolve. When the sugar does dissolve, remove the saucepan from the stove.
Next, stir in the lemon juice and any optional thyme. Then transfer the mixture to the baking dish. Allow this to cool at room temperature for thirty minutes then cover and move your granita to the refrigerator for another thirty minutes before moving it to the freezer.
For the freezer steps of this process, use a fork to stir it every half hour for the next couple of hours. It should take between two to three hours to reach a good consistency for serving, depending on your taste. However, the consistency of the final product depends on alternating the freezing and stirring with a fork. Be sure to stir just before serving as well.
Thanks so much for visiting!
If you decide to make this recipe, please stop back and let me know how it turned out for you. Also, if you have any tips or tweaks to the recipe to share, please do so in the comment section below. My readers like to stop by periodically for updates on the recipes. Reading the comments below is helpful to these readers and hopefully to you too!!
Looking for a recipe that is not on my site?
Please let me know and I will on getting that recipe for you.
Happy baking, eating, and enjoying life!
Nutritional Information is only an estimate and can vary especially with ingredients that are used.
[mv_create title="Easy and Delicious Lemon Granita" key="51″ type="recipe"]