This holiday season, it can be essential to know something about Easy Cookie and Wine Pairings .
This is because sometimes a glass of milk may not do the job.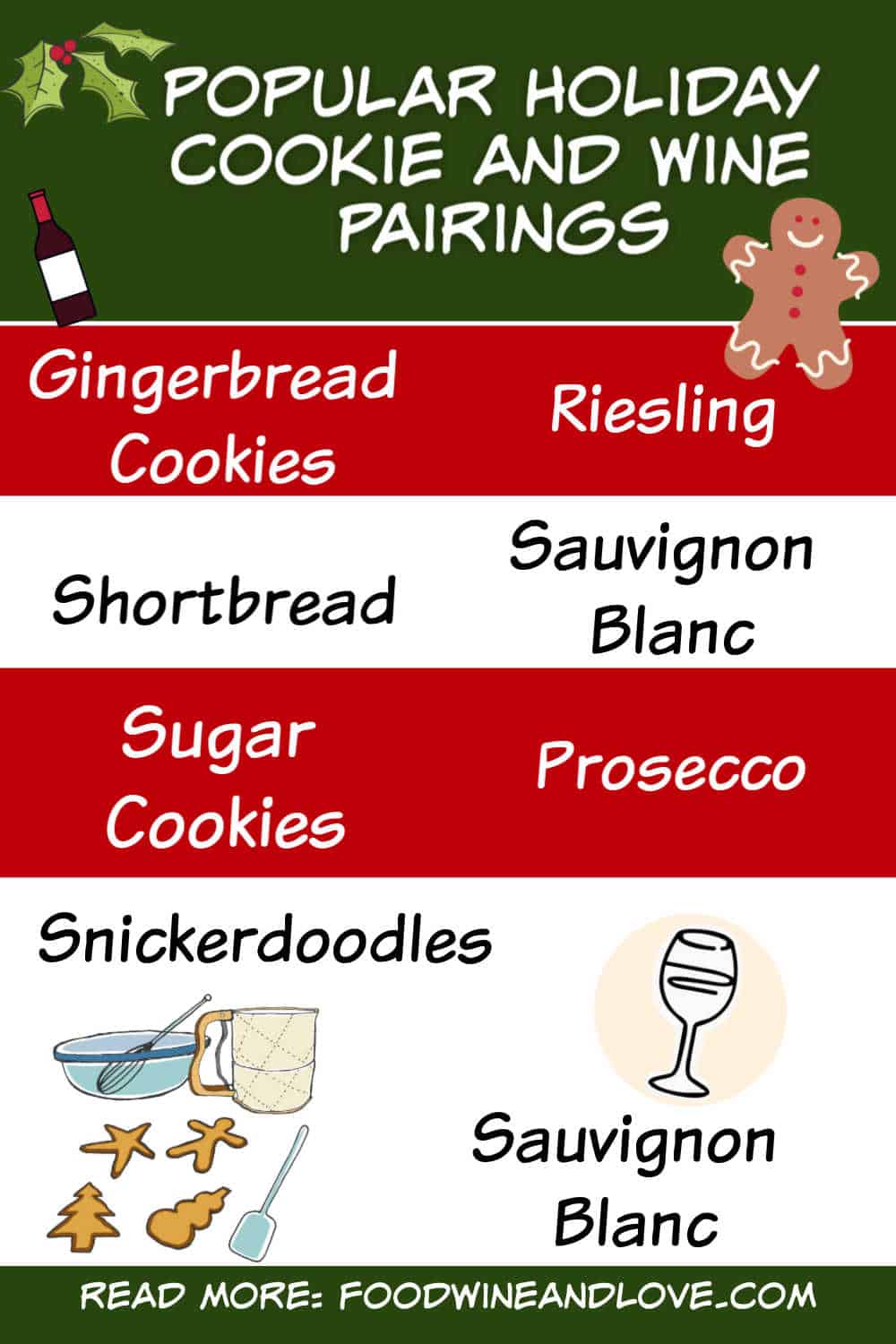 Easy Cookie and Wine Pairings
If you have seen my recipe for Chocolate Chip Cookies Make with Olive Oil, then you know there are ways to enjoy cookies even while following the Mediterranean Diet. At least, without stepping off of the diet for a moment. 🙂
I must say that for some folks, it really is more about the wine than it is about the cookies.
The truth is that there are just some wines that will just not go with some foods. It is a matter of balance of the palette.
T'is the season of cookies.
This cookie and wine pairing is especially helpful during the holiday season. Not only for when we bake cookies, but for when we eat them too!
Holiday cookies are a big deal for a lot of folks.
It could be that baking the cookies is a throwback or memory reminder of childhood happiness. However, holiday cookies can simply be a satisfying way to celebrate the season. am I right??
Let is start with the most popular or types of cookies .
This is especially focusing on the holiday season cookies. The cookies that you are most likely to see or bake during the holiday season.
Then we will match those cookies to the most popular wine selections.
While this is not rocket science, matching the right wine with the right cookies can certainly be important.
Especially when you want to enjoy the experience of eating cookies and sipping some wine.
Here are some holidays season cookie and wine tips for you.
I already mentioned that there are just some wines that will just not go with some foods. It is a matter of balance of the palette.
Here are some more great cookie and wine tasting tips.
People tend to like to try the familiar cookies first. The most familiar cookies (during the holiday season and Christmas) include shortbread, gingerbread, snickerdoodle, and sugar cookies.
You can always make a crowd happy with chocolate chip cookies any time of the year.
The most popular wines include Chardonnay, Riesling, Cabernet Sauvignon, Pinot Grigio, and Sauvignon Blanc. If you are wanting to satisfy a small crowd without going overboard, this is a good group of wines to go with.
The most versatile wines of choice, that is the wine that has the best chances of pairing well with the most cookies, include the bubbling stuff. A brut champagne can also be a winner. Stick to these versatile kind of wine when you are heading to a cookie party and are not sure exactly what kind of cookies will be there. Going with something versatile will certainly better your chances of pairing cookies well with wine.
By the way, while you are here you may also be interested in these ideas.
Be sure to follow me on Pinterest| Facebook | and Instagram.
Also, subscribe to my weekly newsletter!

--KEEP SCROLLING--
Easy Cookie and Wine Pairings
I will show you the top cookie choices for the holiday season. This is because these are the cookies that you are most likely to bake and or even eat during the holiday season.
The wines that are paired with the cookies are also among the most popular wine choices.
Many of these wines can be found reasonable priced, which is something that makes me happy. They are also well balanced in taste when it comes to eating them while you are sipping on your wine.
Easy wine pairings for popular Christmas cookies.
Gingerbread Cookies- This cookie is known for its molasses and spice taste. The wine that is paired with this cookie should be a more bland tasting wine as you do not want it to take over. A dessert wine can provide a nice balance for this cookie. Try a sherry. Riesling also goes nice with the ginger taste in this cookie.
Shortbread Cookies- known for their butter taste along with a bit of sweetness from sugar. It really is the buttery taste that you can enhance with wine. Try a chardonnay or Sauvignon Blanc for a great complement in flavors. Champagne is another fun choice as it has bubbles that work well with the buttery taste.
Sugar Cookies- this is the cookie that is most likely to be decorated with what else, more sugar. I like a more dry taste of a Prosecco or even a brut wine. The bubbles really help balance out the sugar as well. Riesling is another good choice if you want to enjoy the taste of sugar.
Spritz Cookies- these are the cookies that are usually put through a cookie press and shaped into fun shapes such as trees or flowers. They are not cookies known for a huge flavor as they are meant to be displayed nicely. They do make a good presentation on a cookie table. So, for a wine, I would choose a Riesling for its fruity and crisp taste.
Snickerdoodles- this is a cookie that is known for its texture and seasonings. Sauvignon Blanc goes nicely with this cookie. Some folks like a more oaked version with this cookie.
Butter Cookies- this cookie is a lot like the shortbread cookie when it comes to taste. I will say that often the shortbread will be topped with a bit of sugar however, leading to a sweeter cookie. Again, try a chardonnay as it is a great complement in flavors.
Did you know that you can bake fabulous sugar free cookies too for the holiday season?
Just in time for the holiday season. Baking and sharing cookies can also be without a bunch of added sugar!
Here are the Best Sugar Free Cookie Recipes.
[mv_create title="Holiday Cookie Recipes" key="72" type="list" layout="grid"]
Thanks so much for visiting!
Looking for a recipe that is not on my site?
Please let me know and I will on getting that recipe for you.
Happy baking, eating, and enjoying life!
This listing for Easy Cookie and Wine Pairings is essential for the Holiday and Christmas season! Also included are recipes for popular cookie recipes (including sugar free!).