These Easy Thanksgiving Wine Pairings should hep you get through your dinner.
I like that this listing is so easy to follow as well!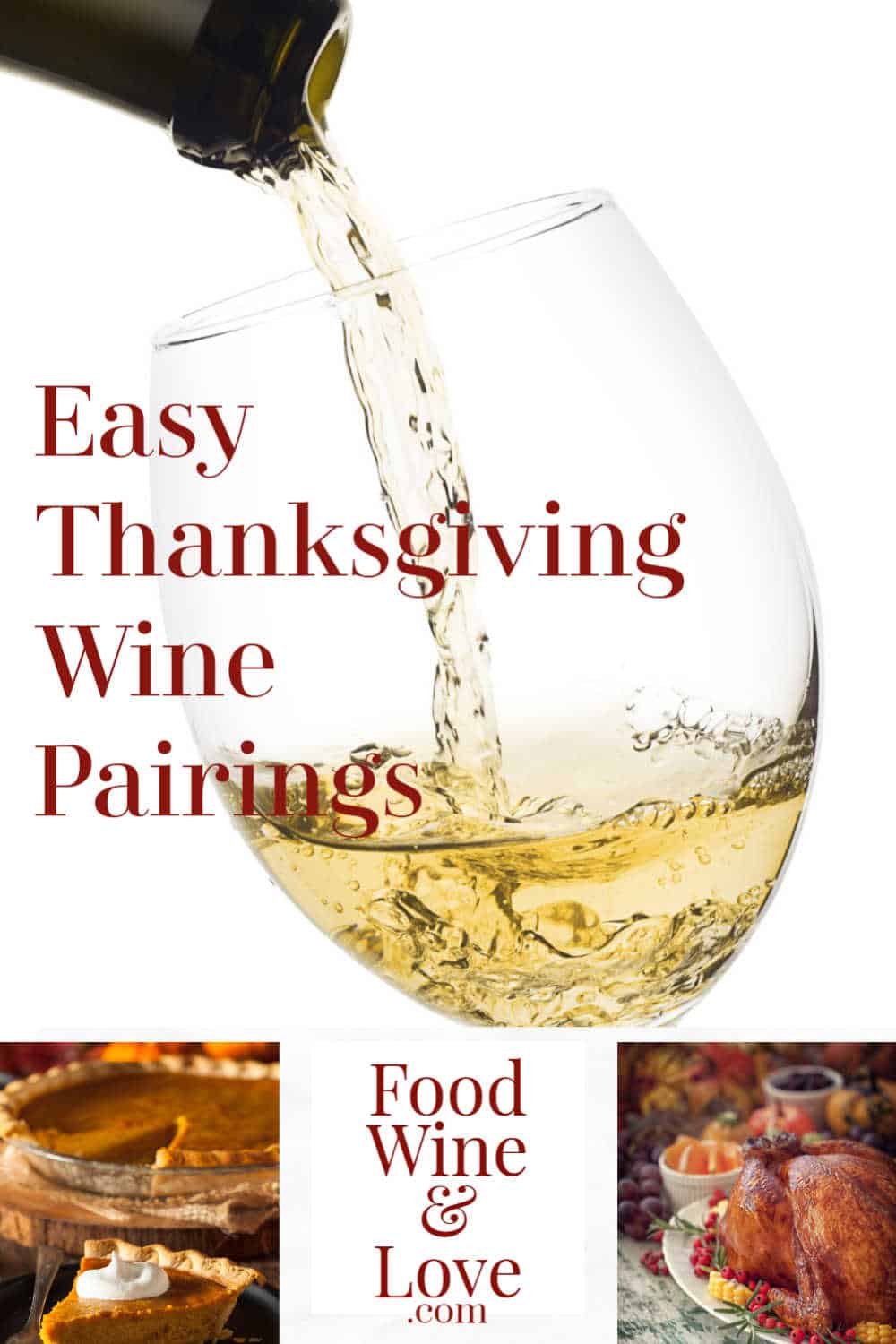 Easy Thanksgiving Wine Pairings

Wine pairings can be an impoortant thing when it comes to matching flavors that go together.
Just take into consideration my pairings for popcorn and pairings for chocolate to see for yourself.

Thanksgiving wine selection has factors to consider that are not normally in question when it comes to pairing wine.
For starters, Thanksgiving gives us more than just a meal. Thanksgiving gives us everything that we eat (or don not eat) during the entire day as well.

Thanksgiving pairing tips begin with thinking about the day itself.
After all, Thanksgiving only comes once a year. It is also that one day that many (okay, maybe most) of us play hooky from our usual diet or schedules. Many of these ideas may be best suited for certain times of the day rather than during the meal itself.
So, to consider the day of Thanksgiving in relation to wine pairings you should take a few things into consideration.
If it is a fall kind of a day, with a lot of leaves outside etc., you may find that something of an apple cider or pumpkin may be a fun thing to drink.
On the other hand, if you are experiencing snow or cold weather, perhaps something warm may seem to be a good idea.
To be honest, I also like to include a festive beer since there are so many pumpkin beers available this time of the year.
When it comes to wine pairing for the meal itself, consider what the overall feeling of the meal.
A more casual meal setting, say with people that you are familiar with, can dictate casual wines. But, if you are dining in an atmosphere with other folks, perhaps a more sophisticated wine selection works best.

Here are some ideas to consider when pairing your wine with the overall feeling of the meal.
A pot luck setting dictates a variety of tastes which means you can choose from a variety of wine tastes.
With a more structured meal setting consider serving more predictable wines.
Some Thanksgiving meals will have a specific twist. I am talking about spicy foods, Italian style, or even barbecue themes. Take these twists into consideration when choosing the wine for your meal.
Lastly, consider the people who will be enjoying the wine.
While it may be easy to satisfy your tastes, you should probably be thinking about others as well. Not everyone enjoys the same wine that you enjoy.
Here are some things to consider about the others in the room.
Are they sophisticated wine drinkers? Casual wine drinkers? Or maybe a mix of the two?
Some folks are not into red wines while others are not into white wines.
Also, some people are sensitive to wine so you may want to think about a lower percentage wine or nonalcoholic one for those folks.
By the way, while you are here you may also be interested in these ideas.
Easy Thanksgiving Wine Pairings
I am going to list specific wines according to the food that you may want to pair it with. Certainly, you should use your best judgment for deciding what will work for your setting.
Easy Thanksgiving Food Pairings
Cold Weather- Something to keep your warm or something to go with the weather. Chardonnay,
Cabernet Sauvignon, Port Wine or Chianti.
Fall Weather- I like to think about transition of the seasons, leaves and the colors of fall. Cabernet Sauvignon, Rose, or Pinot Grigio.
Cheese Platter- This really depends on the taste and the consistency of the cheeses. Usually the cheese and wine should either complement or balance each other in taste. Here are some sweet wine pairings with cheese which may work for you.
Green Bean Casserole- Balance out the creamy texture of this with a lighter wine like a Riesling.
Rolls with butter- Pinot Grigio or Pinot Noir.
Mashed Potatoes- Complement the consistency of the potatoes without stealing the great taste with a Merlot or Chardonnay.
Stuffing- Meat stuffins taste best with a red wine that is unoaked. Read the label. Chardonnay Unoaked such as Pinot Noir
Cranberries Cabernet Sauvignon.fruit
Turkey- This depends a lot on if your turkey turned out dry. For a dry turkey choose something with a bit more flavor. For a more moist or flavorful turkey, pair with something lighter. Zinfandel, Pinot Noir, and Chardonnay. Cabernet tends to take over the flavor in your palette so I would avoid that.
Dark Turkey Meat- Zinfandel
Pecan Pie-With pies you need to consider especially how sweet they are in addition to the fat content. Port wine or Madeira.
Pumpkin Pie- Chardonnay, Riesling, or Pinot .
After Dinner- Depending on how much sugar and fat you have indulged in (does that even matter on Thanksgiving?), dessert wines such as Tawny Port, Madeira, Late Harvest Riesling, and yes, Champagne.

The best overall wines to serve on Thanksgiving.

I would term this as "if I were to serve only one bottle of wine" with Thanksgiving dinner. Of course you would want to serve some kind of wine that gets along in consistency and flavors with EVERYTHING, as in every food, that you serve.

Wines that are most likely to get along with the food that is served on Thanksgiving.

Pinot Grigio- great middle of the road choice when it comes to flavors.
Dry Riesling - great with fatty gravies etc.
Chardonnay- another good middle of the road choice.
Zinfandel -goes especially well with darker meat turkey.

This listing of Easy Thanksgiving Wine Pairings includes everything that you need to know about pairing your wine on this special holiday!