Yes, there really is a way to make Really Simple Oysters Rockefeller.
You could certainly impress someone when you make these as well.
Really Simple Oysters Rockefeller .
The name sounds as impressive as the dish.
Which is why serving them up will especially impress someone.
Oysters Rockefeller could possibly be one of the most romantic dishes that we can eat.
You probably already know that oysters are one of the top aphrodisiac foods around.
Thus, serving these oysters, possibly with a bottle of red wine, could certainly set a mood that you are seeking.
Personally, I was amazed that the origins of Oysters Rockefeller is actually in America.
You could think that something that is so impressive, and well, fancy, in addition to be romantic, would come from somewhere else.
But, alas, Oysters Rockefeller is an American dish indeed.
In case you are unfamiliar with Oysters Rockefeller, here is what you need to know.
Oysters Rockefeller was indeed named after John D. Rockefeller as he was the richest man in the country and well, this was thought to be the richest dish in America. Oysters Rockefeller is native to New Orleans and is still a favorite brunch addition in the south.
Do you want to learn more about the Mediterranean Diet?
Find out how to follow the Mediterranean Diet here.
Oysters Rockefeller is basically an open oyster that has some seasoned breading an butter on top.
The tough part is shucking the oysters to get them ready for baking. The good news that there are oysters for sale online that have been shucked for you.
Perhaps the big question is whether to serve Oysters Rockefeller as an appetizer or as part of a meal.
I know that I have been referring to these as a meal however, Oysters Rockefeller would certainly make for a great appetizer as well.
It is customary to serve yours with sliced lemons which not only add to the color of the dish, they can be helpful in removing the smell from your hands.
Equally important, in my opinion, is what wine to serve Oysters Rockefeller with.
Muscadet, a French bone-dry, light-bodied white wine, is the most popular wine to serve with this.
Other nearly as popular wines include Chablis, Pinot Grigio, and Champagne. Since this is a rich tasting food, a dry wine pairing works well when it comes to balancing the palette.
By the way, while you are here you may also be interested in these ideas.
Be sure to follow me on Pinterest| Facebook | and Instagram.
Also, subscribe to my weekly newsletter!

--KEEP SCROLLING--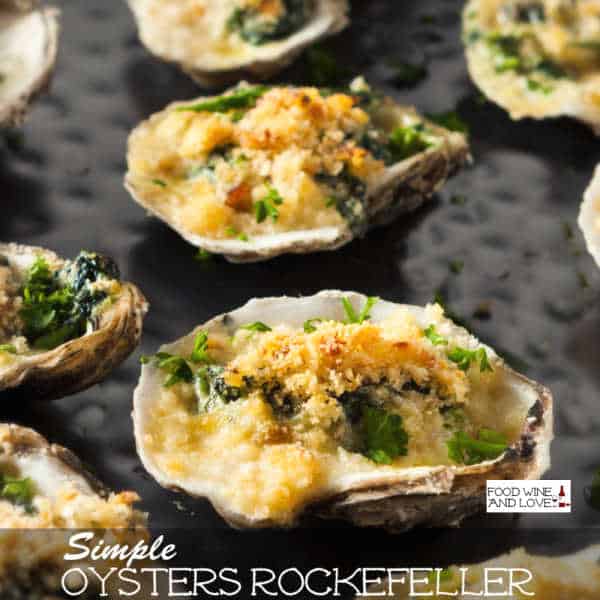 Really Simple Oysters Rockefeller
As mentioned, the tough part of this recipe is shucking the oysters to get them ready for baking. The good news that there are oysters for sale online that have been shucked for you. Using prepared oysters will make this a more simple recipe to make.
Oysters Rockefeller is traditionally served with sliced lemons.
The oysters are shucked and the shells are saved for baking and then for the presentation. Placing the lemons strategically with the Oysters Rockefeller can certainly add an impressive color to the serving presentation as a whole.
I should also mention that it is customary to bake these oysters in a bed of salt.
You will need between ¼-1/2" inch of salt in the bottom of your baking sheet. This salt will help to keep the oysters in place when they bake in your oven. Kosher Salt is a popular option as is Rock Salt.
Here is what you will need to make your own Really Simple Oysters Rockefeller.
Use a baking sheet such as a jelly roll sized one for this recipe.
This is a 10 X 15" sheet with a 1" rim or side on it. You will need two of these baking sheets for this recipe.
Kosher Salt is a popular option as is Rock Salt- enough to make a salt bed in the bottom of your pan. This will probably be 1 ½ to 2 pounds of salt.
Oysters- 30-36. Washed, shucked and in half. Hold on to the shells for baking the oysters in.
Butter- 1 stick (½ cup). Cut the butter into cubes.
Garlic- 1 clove minced.
Onion- ¼ cup chopped.
Spinach- 1 cup. Fresh is best however, defrosted cut spinach can work too. Your spinach should be chopped or cut up.
Romano Cheese- 1 cup grated. Can use Parmesan or a blend of the two.
Bread Crumbs- ⅓ cup dry.
Lemons- 1-2 cut into wedges.
Optional: Seasonings to taste. This can include topping with additional chopped spinach or green onions.
Here is how to make this recipe for Really Simple Oysters Rockefeller.
Prepare your baking sheet with kosher or rock salt. Simply spread the salt on a sheet that has not been greased. The salt should cover the sheet to about ½-1/2". Also, preheat your oven to 450.
Next, press each oyster shell into the salt bed that you have created. Then, place an oyster into each of the shells.
Now, in a medium to large skillet on medium heat, sauté the garlic and onion in your butter for about two minutes for them to start to change in color. Then stir in the spinach.
Meanwhile, in a mixing bowl, combine together the grated cheese and bread crumbs. Add any desired seasonings to the bowl as well.
When the spinach appears cooked or somewhat wilted you can remove the skillet from the heat. Stir in the contents from the mixing bowl to the skillet.
Add 2 - 2 ½ tablespoons of the mixture to the top of each oyster that has been placed in a shell for baking. You can top this with any additional optional ingredients such as chopped green onion.
Bake your Oysters Rockefeller for 7-9 minutes. They should appear plump and begin to brown when done. Add the sliced lemons to the serving plate upon presentation.
Oysters Rockefeller is one of the meals that are most synonymous with romance. Make your own Really Simple Oysters Rockefeller.