You may be interested in this list of The Top 10 Foods For Love .
This list may contains some of your favorite choices of food as well.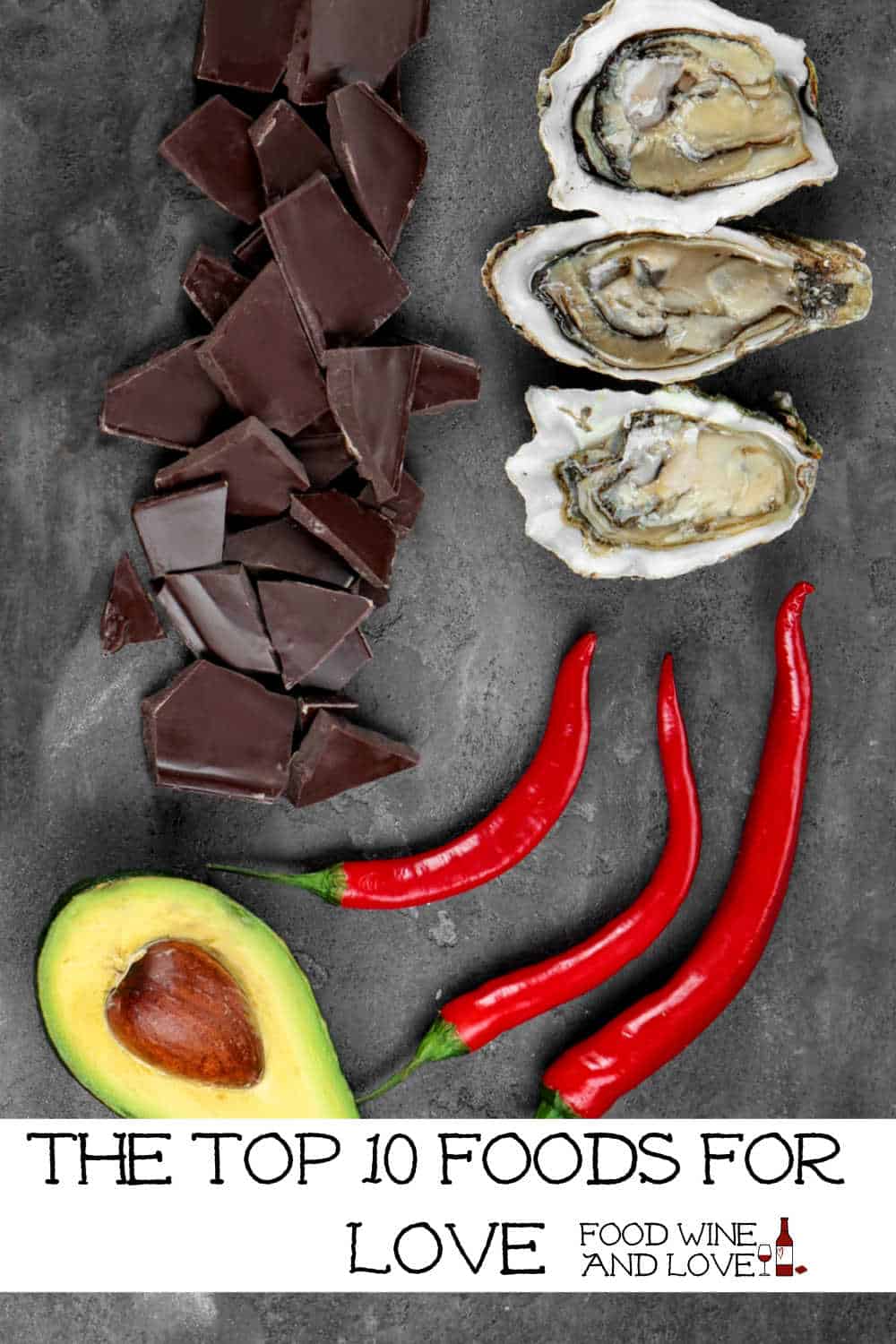 The Top 10 Foods For Love
Some of these food choices you may already know about.
However, there may be some foods on this list that may surprise you.
Certainly when you are looking for love to happen, you will probably consider any kind of help that you can get.
We all know that food can play an important part in our lives as we need it to survive.
However, food can also help guide us with romance as well.
Technically speaking, we can easily define a list such as this one as 'aphrodisiac foods.'
Most of us know that an 'aphrodisiac' is meant to increase the libido. However, just because you are looking for food that may help you with love does not necessarily meant that you are interested in the libido too.



I will say that when it comes to food, the foods that help you with love will most likely help you with libido as well.
There certainly may be some science to that theory. But, a bit of luck or what you believe in your mind may also help.
I suppose we would have the Greek Goddess Aphrodite to thank for all this.
It was Aphrodite who was the goddess of love, beauty, and pretty much anything that has to do with that.
As you may have guessed, Aphrodite and then hence, Aphrodisiac.
But seriously, can food really affect our libidos?
There is some research that has linked nutrition in some foods with helping us with love.
For example, something that makes the blood flow could certainly help us think about things a bit more.
There are foods listed below that do have ingredients in them that could go a long way in helping us with our romantic endevers.
You may already be eating these foods. However, it may also help to have the right mindset with these foods as well. You know that they say about the power of positive thinking after all.
By the way, while you are here you may also be interested in these ideas.
Be sure to follow me on Pinterest Facebook and Instagram.
Also, subscribe to my weekly newsletter!

The Top 10 Foods For Love
Technically, there are probably more than just 10 foods. However, consider this list to be a start.
We can certainly add more foods later on.
As mentioned above, a lot of what makes these foods helpful to your love life has to do with the nutrients that are in the food.
I will certainly explain this as we go.
Also, keeping a positive mind and thoughts can go a long way to making these foods even more successful with helping you with your romancing.
Dark Chocolate is an obvious one as I am sure that you already knew this. However, you should know that it is the variety of chocolate and not other varieties, such as the milk chocolate variety.
Here is why dark chocolate is so good for love.
The Flavanols in dark chocolate help with the blood flow which in turn, gets us thinking about things. Some researchers say that the phenylethylamines in dark chocolate release endorphins that are helpful as well.
Chili Peppers.
There is something about a red chili pepper that reminds us of the red color associated with love. But, beyond that, the chili pepper can certainly heat us up.
But, it is the capsaicin that is in chili peppers that can also do the trick.
Once again we have something that can get the endorphins going and it is capsaicin. This reaction can not only heat us up physically but, also mentally.
Avocados can really make you feel good too.
I swear, sometimes I feel like I hear something new about avocados every day. And that news seems to get better every day as well.
Avocados have been used for a long time though.
However, I have herd that it is the shape of the avocado, as well as it growing in pairs, that makes it such a good hone. When it comes to the avocado, it can be more of a visual association of love than a chemical one.
Obviously oysters right?
When I think of aphrodisiacs, oysters are probably the first food that I think of.
This one has been around for a long time as well.
The oyster may be a popular food for love just because of what it looks like and how it is eaten.
Not to get past a 'G rating' or anything, this could be one of the most sensual foods to eat. However, oysters do have zinc and zinc has been linked to being helpful for men.
Garlic is the one food that surprises me.
I mean, it is garlic that keeps away the vampires. Also, the smell of garlic, namely on the breath, that can keep folks away.
But what makes garlic so romantic could actually be how it affects the blood.
Garlic is healthy for the blood and an anticoagulant, as we have learned from research. And this kind of healthy can help the blood flow and thus, as a result, we are feeling good about romance.
How about some honey?
Honey is a food that is not only sweet, it can help you feel the love. There really are a lot of benefits related to eating honey.
Folks wanting romance have been eating honey for years.
Sure the sweetness of honey can make you more interested. But, there is also boron in honey which can help with hormones (estrogen/testosterone) .
Bananas too!
I am not going to be someone who mentions anything about the shape of a banana. But, it could be just that.
Bananas contain bromelain.
Bromelain helps with testosterone production. Thus, bananas can help you with your romancing.
Red wine is something that your probably already know about.
When you drink red wine it certainly can help you relax. Some folks call this 'become inhibited'.
But, red wine also has quercetin in it.
Quercetin can help with keeping blood healthy. Having healthy blood can improve your love life.
It can only take a couple of glasses to work.
Nuts are a good choice too.
Some nuts, such as almonds, are a good source of zinc. Zinc helps increase the flow of blood to organs, such as the ones needed for romance. Pine nuts have been a popular nut too for the same reason.
There are also seeds that can be helpful.
Seed such as pumpkin seeds are high in magnesium.
Magnesium helps to raise testosterone levels.
Lastly, we have figs.
I think that we can credit Adam and Eve for this one. I mean, we have all heard about the fig leaf.
However, figs also have potassium in them which can help you too.
But, perhaps it is something else about the fig that makes it an aphrodisiac.
Consider the look and the smell of the fig. This is equally as appealing to many looking for some romance.