Yes, indeed there are (at least) 25 Fabulous Mediterranean Diet Snack Ideas !
These snack ideas are pretty yummy as well!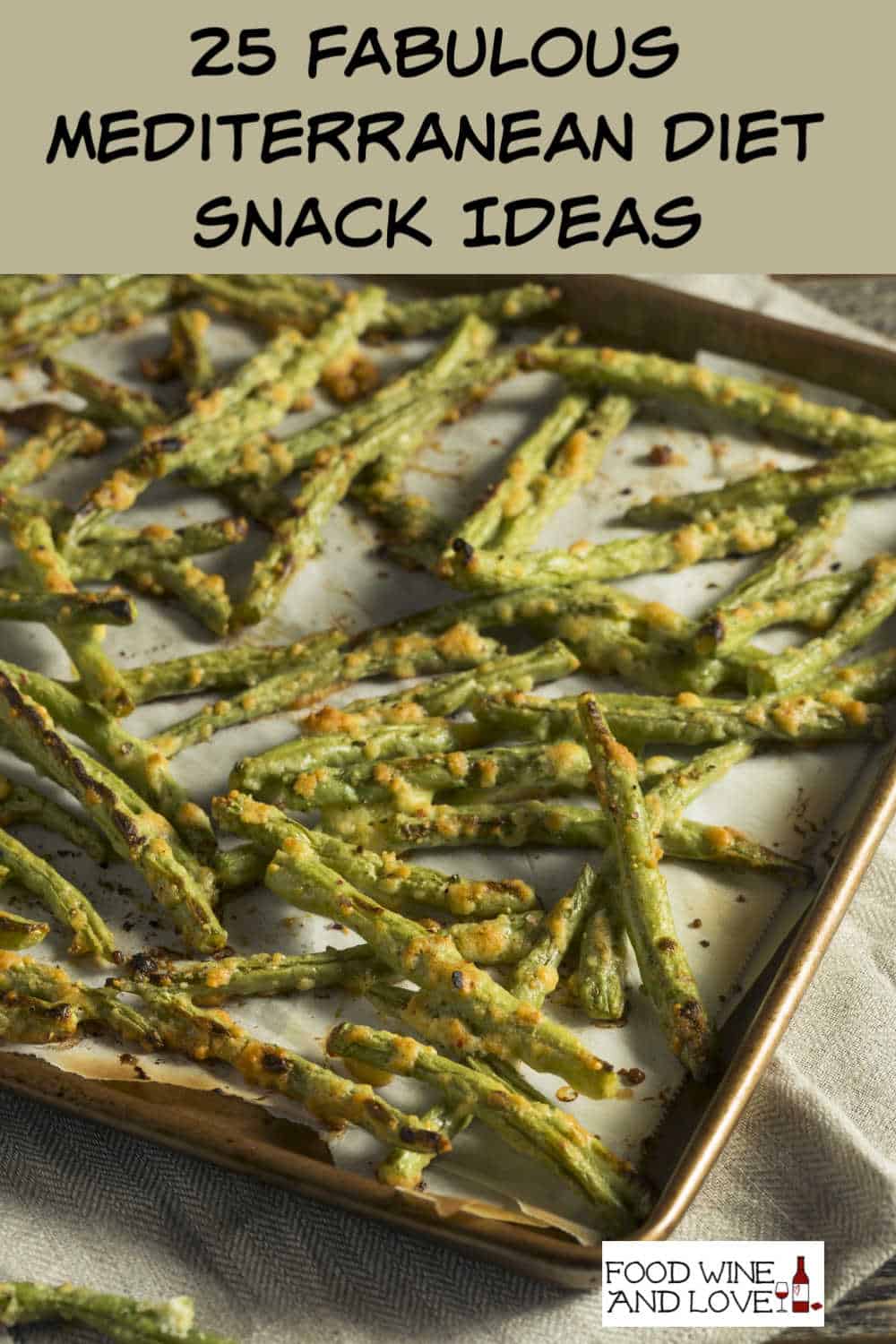 25 Fabulous Mediterranean Diet Snack Ideas
This list is especially for anyone who is wondering what they could eat without cheating on their healthy diet.
However, many of these snack ideas cross over into other diet snack ideas too.
I can certainly relate to anyone who has been on a diet and is searching for the perfect snack.
Of course, it is the first week of any diet that can be the hardest. This is especially true when you are in search of something to tide you over until you are thus able to eat your next meal.
The Mediterranean Diet is known as the diet that is heavy on fruits and vegetables.
Anyone who follows the diet also knows that whole wheat bread and similar foods are encouraged.
However, not encouraged on the Mediterranean Diet are foods that are heavily processed and granular sugar.
You may be wondering what it is that you can eat on the Mediterranean Diet.
Besides whole grains, fruits and vegetables, you can eat nuts and beans. There are also foods that you can eat in moderation such as dairy products and, yay! red wine.
Here is what you should include on your Mediterranean Diet Shopping List.
If you have seen my post on How to Follow the Mediterranean Diet, you have probably seen this list.
Plant-Based Foods such as fruits and vegetables.
Whole Grains, Nuts, and Legumes.
Healthy Fats such as Canola Oil and Olive Oil.
Fish and Poultry to eat at least twice a week.
Seasonings that do not include salt.
Red Wine in Moderation- yay! 1 5 ounce glass a day.
Other foods to eat in moderation eggs, cheese and yogurt.
Potatoes, sweet potatoes, turnips, and yams.
Water, Coffee, and tea (all unsweetened of course)
Also okay on the Mediterranean Diet Food list are olives and avocados.
Here is what you should NOT include on your Mediterranean Diet Shopping List.
This is thankfully, a short list in comparison to the above list.
Anything that has sugar added to it- such as cookies, sodas, etc.
Refined oils- generally oils that are not virgin or extra virgin olive oil or canola oil.
Refined Grains such as white bread.
Trans fats- including fried foods and margarine.
Also, Processed foods such as meats.
When you are searching for snack ideas while you are on the Mediterranian Diet, keep in mind the food pyramid.
There is a special pyramid just for this diet. This pyramid id really does make a lot of sense too if you are a follower of the Mediterranean Diet!
Finding a good snack is a lot easier when you use the pyramid for details.
But, like any other food pyramid that you are used to, the Mediterranean Diet Pyramid tells us what we should be eating more of and what we should be eating less of. On the bottom of the pyramid, what we should be eating more of, are whole grains, nuts, and pasta. Scroll down to see the pyramid for yourself.
We should also be eating these foods according to the Mediterranean Diet Pyramid.
After grains comes to fruit and vegetables followed by olive oil. Falling somewhere in the middle of the pyramid is fish and seafood.
I should mention that many of the items on the list of snack ideas are item that are prepackaged into individual serving sizes.
However, there are also some ideas that are recipes. The recipes are easy to follow too!
By the way, while you are here you may also be interested in these ideas.
Be sure to follow me on Pinterest Facebook and Instagram.
Also, subscribe to my weekly newsletter!


--KEEP SCROLLING--
25 Fabulous Mediterranean Diet Snack Ideas
The list, 25 Fabulous Mediterranean Diet Snack Ideas.
1. Black Olives- 1 serving is 10 averages sized.
2. Natural Unsweetened Peanut Butter- 2 tablespoons is a serving.
3. Fresh Strawberries- 1 cup whole, about 46 calories.
4. Roasted Chickpeas- one serving is a half a cup and around 110 Calories.
5. Mediterranean hummus- 2 tablespoons has about 50 calories depending on ingredients.
6. Cashews- 16 is a serving.
7. Air Popped Popcorn- about 30 calories in a cup. A serving is anywhere from 3-5 cups.
8. Grapes- 1 cup has about 60 calories in it.
9. Fresh Carrots- 12 baby are a serving and around 50 calories.
10. Whole Grain Bread- 1 slice has 110 calories.
11. Peanuts- 35 average sized in one serving.
12. Grape Tomatoes- these are the perfect size and one of my favorite snacks!
13. Gucamole- I love fresh guac! Make your own and you can keep it real in ingredients! One tablespoon has about 25 calories in it.
14. Baked Beet Chips- these are baked and perfect for dipping!
15. Skinny Air Fried Potato Chips- This recipe is basically thinly sliced potatoes with olive oil and seasonings. They are so easy to air fry!
16. Green Olives- 1 serving is 10 olives.
17. Homemade Apple Sauce- use raw honey as your sweetener.
18. Dried Peas- one serving has 100 calories.
19. Almonds-23 almonds, about 160 calories in this handful.
20. Red Wine- One 5 ounce glass a day is okay!
21. Baked Veggie Chips- if you buy your own, please check the ingredients to ensure that they really are veggie!
22. Whole Grain Popped Chips- Again, be sure to check the ingredient listing on the package. Then snag some of the guacamole for some dipping!!!
23. Oven Baked Asiago Green Beans- a simple sheet pan recipe that anyone can make!
24. Oven Baked Buffalo Cauliflower- Cauliflower is hot right now and it is also a vegetable!
25. Pizza- seriously. Here is a 4 ingredient homemade cauliflower pizza crust recipe!
Thanks so much for visiting!
However, if you decide to make one of my recipes, please stop back and let me know how it turned out for you. Also, if you have any tips or tweaks to the recipe to share, please do so in the comment section below. My readers like to stop by periodically for updates on the recipes. Reading the comments below is helpful to these readers and hopefully to you too!!
Looking for a recipe that is not on my site?
Please let me know and I will thus work on getting that recipe for you.
Happy baking, eating, and enjoying life!