How to Store Your Wine- a guide for the average person.
This is a guide for someone who does not have a lot of space or money to devote.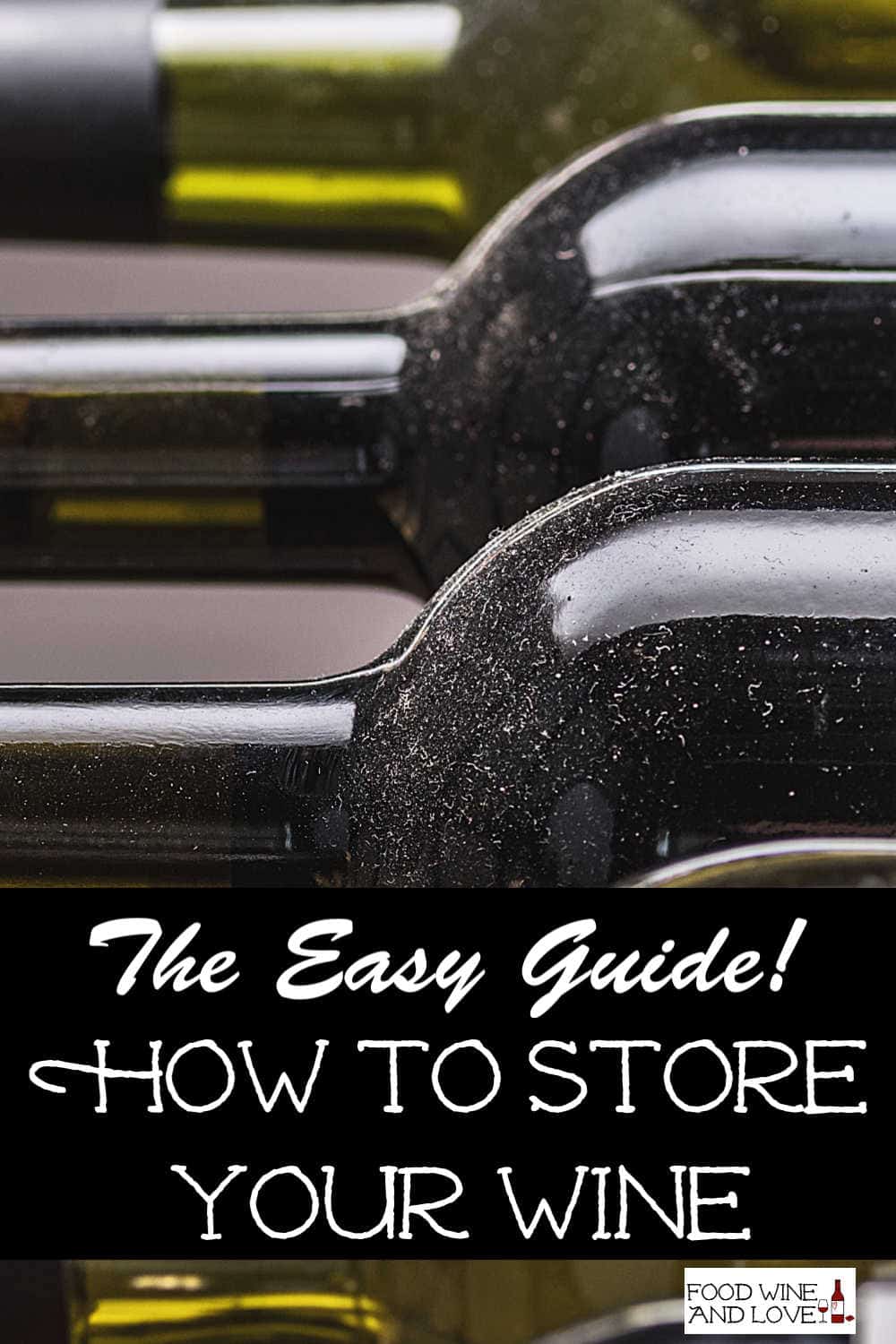 How to Store Your Wine.
This is a guide for the average wine enthusiast.
It is simply what you need to know about how to store your wine properly without having to spend a lot of money or devote a lot of space that you may not even have.
These days wine, and the enjoyment of wine, is not just for the people with means.
So, as a result, I am going to share with you how to store your wine. Storing you wine properly does not mean you need to build a proper oom or make other similar expensive investments.



Let me start by letting you know why you should consider how to store your wine.
I know that there are some people who really like the look of wine being stored. They may store their wine in a decorative way such as a on a wall mounted wine rack that is posted more for room alignment than for keeping their wine.
But, if you are wanting to store your wine to enjoy it later on, you should probably take a bit of care with the wine.
This is because wine can go bad and that can be easily avoided. The simplest thing, such as the light in your kitchen or the noise in the room, can affect the taste of your wine or influence the aging process of the wine.
There really are only five things to keep in mind when you are thinking about storing your wine.
These five ideas may seem obvious to you. However, you may also learn something new here as well.
I personally would suggest getting close to what is suggested if not doing them exactly.
Personally, I believe in the good graded for effort. In the case of wine (or wine case for that matter) sometimes the effort is good enough if you are planning to serve the wine soon.
If you really want to get more serious about your wine storing, you certainly can.
I will provide you with methods to do so. However, do not feel overly inspired to do so if that is not you.
By the way, while you are here you may also be interested in these ideas.
Be sure to follow me on Pinterest Facebook and Instagram.
Also, subscribe to my weekly newsletter!

This is How to Store Your Wine
A guide for the average person.
Also, a great cheat sheet for the person just getting into the love for wine.
As mentioned above, there are five main things to keep in mind.
Here is a summary of those five ideas.
The temperature of where the wine is stored is important but, can be a bit negotiable too.
What is important to know is that the temperature should not get too warm for any wine as this heat can really ruin it by oxidation.
You probably want to keep the temperature pretty steady that is, not varied from highs to lows as this can affect a lot including the cork which can allow air into the bottle. Warm temperatures can also make the wine age faster and thus, go bad faster. Wine that is stored at too low of a temperature can have the aging process slowed down which can affect the full enjoyment of taste.
Suggested storage temperatures can vary per wine.
Most wine should be stored between 40-65 degrees (f). Anything above 75 degrees will ruin your wine.
The coolest setting, if you were to get more specific with your wine storage, would be for sparking wines st 45 degrees.
And the warmest setting would be for the port wines and full bodied wines (Bordeaux, Syrah) at about 65.
Do you have only one place to store your wine?
Try to keep that location between 50 and 59 °F as a happy wine medium.
Usually this option for a storage locations is small and the turnover of wine happens fast enough to not make any wrong turns here.
Wine would be the one instant of not having good vibrations.
Sorry about the Beach Boys reference here if you are not a fan. My point is that vibrations are bad for wine. Sounds a bit weird at first.
However, vibrations can really age your wine and make it go bad sooner than later.
In case you are wondering exactly what a vibration is, it is something that can cause the wine to mix or shake.
Agitation of your wine can make trouble with the sediment or can make the wine age faster thanks to the chemical process getting unnerved.
I should mention this vibration is one big reason why you should not store your wine on top of your refrigerator.
Store the bottle on its side.
There is a bit of a quandary among some experts about this. However, there are some good reason to store your wine bottle on its side rather than standing up. Some folks say that angling the bottle a bit allows for the air to stay in one place- the top of the bottle.
The problem with storing a wine bottle upright is that the cork can get dried out.
A dry cork can allow air into the bottle of wine. The result can be ruined wine.
But, there is an exception to this rule. Sparkling wines and champagnes may do better upright.
Humidity is important too.
The problem with some refrigerators or cooled areas is that they can become too dry.
A dry storage area can dry your cork. As stated above, a dry cork can allow air into your bottle of wine, and your wine can become ruined as a result.
The idea humidity for wine storage is at around 70%.
Keep this in mind when you have a bottle of wine sitting out and your home or region is a dry one.
Humidity over 70% can cause mold to grow as well.
Here are a few more things to keep in mind when you store your wine.
Wine does best when stored in a dark location. UV light is bad for wine.
Keep odorous items, such as garlic, away from wine that is in storage.
Red Wine can last up to 10 years if stored correctly.
White Wines can be stored up to 3 years on average.
The worst place to store your wine is on top of your refrigerator or high up on top of something like a wall or cabinet.