Have you eve wondered How Many Calories Are In Wine?
There is an easy way to calculate the answer for yourself.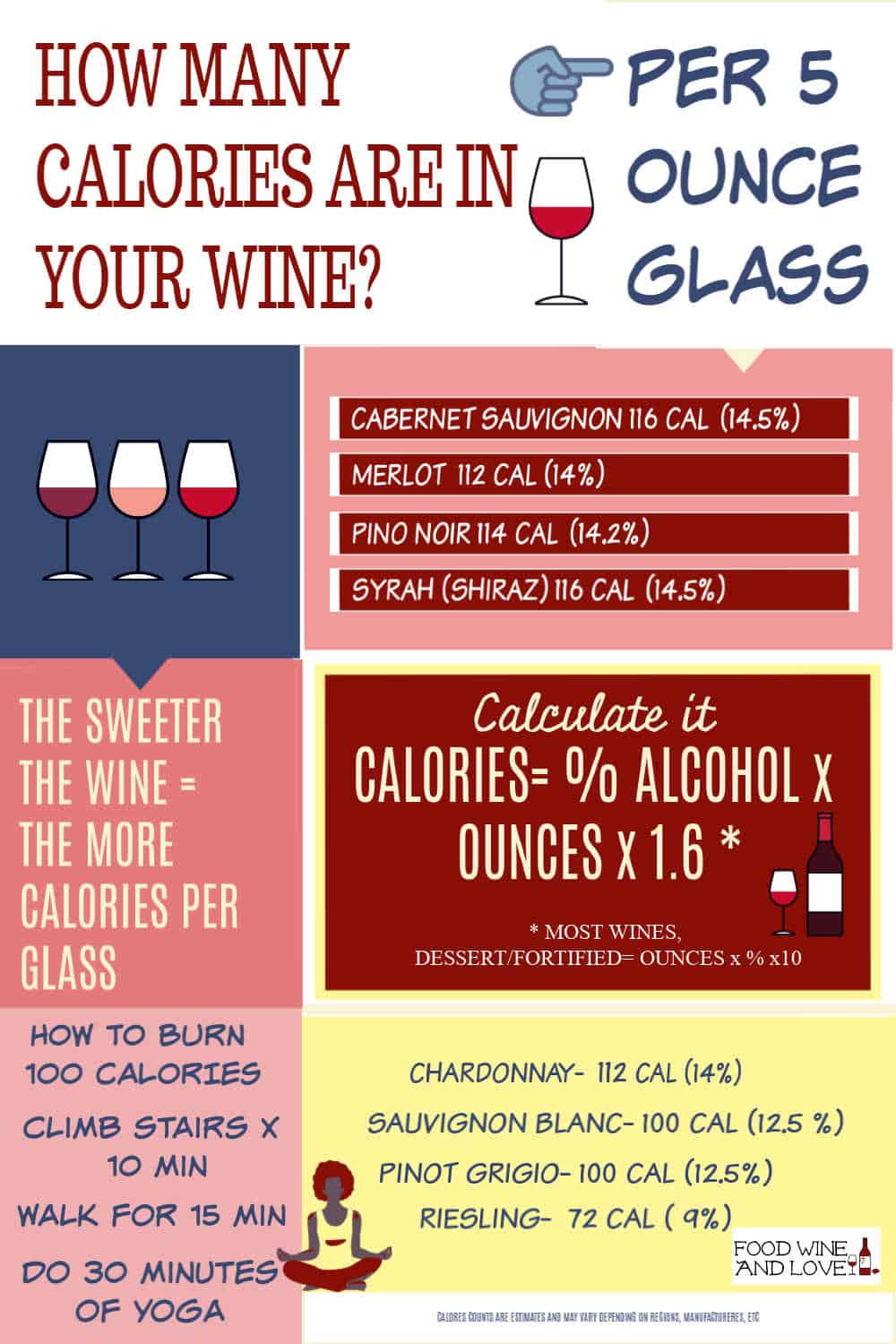 How Many Calories Are In Wine?
I know that this is a question that I have also wondered about.
That is because wine certainly is so enjoyable for so many people.
When you drink one glass of wine, it could easily fulfill your craving without breaking your daily calorie budge (too badly..).
However, it is when you start pouring more into your glass that can cause you to wonder about calories even more.
I know that I have been guilty of this in the past.
Of course there are calories in wine.
This is because wine is made from grapes and grapes have sugar, albeit natural sugar.
Wine has sugar and thus, wine has calories.
I must also add that not every wine is the same when it comes to calorie counts.
There are variables that go into calorie counts such as the grapes that are used and who is bottling the wine.
So, as a result, we can still use estimates using certain theories. I will explain below.



Getting back to how the calories get into your wine.
Wine is the result of the breakdown of grapes into sugar and alcohol.
Both grapes and alcohol supply calories to the wine as a result.
Here is something else that you may want to know.
Like with candy, the sweeter the wine, the more calories are most likely to be in it.
Also, the more alcohol that is in the wine, the more calories are more likely to be in there as well.
If you want to keep your calories down then drink a dry wine with a small amount of alcohol in it.
Think Reislings when you think of a dry wine with less alcohol than other wines. If the wine is dry then there is less sugar in it and thus fewer calories.
Also, if the alcohol is lower than there are fewer calories.
Perhaps you are someone looking for more calories in your wine.
To get more calories from wine, look for a sweeter wine with a higher alcohol content.
Cabernet Sauvignon and Pinot Noir are up there. However, the sweetest wines, and thus most calorific, are the dessert and fortified wines.
A sweet or fortified wine, like a port wine, can have more than double the calories than of a Moscato.
I should mention that most wine and calorie calculations are made according to the size of a standard wine glass.
This glass will hold around five ounces of wine. Some may hold more and some may hold less.
By the way, while you are here you may also be interested in these ideas.
Be sure to follow me on Pinterest Facebook and Instagram.
Also, subscribe to my weekly newsletter!

How Many Calories Are In Wine?
I will share with you how to judge your wine by its calorie count.
While nothing is scientific, it is a good way to judge what you drink especially if you are watching your calories.
Also, just knowing which wines have more sugar in them may be of interest to you too.
The first thing that you should do when you want to know about the calories in your wine is to read the label on the bottle.
Unfortunately, unlike food, the label will not provide you with the information that you are looking for about calories or much of anything else. However, the label will give you the information that you need to figure this out by yourself.
Here is what to look for on the label of your wine if you want to get an idea of how many calories are in that bottle.
Obviously look at the name of the of the wine and look for the grapes that are used. But more importantly, look for the alcohol percentage in the wine. Remember what I said above about alcohol contributing to the calories in your wine?
The Alcohol By Volume (ABV) tells us the percentage of alcohol by volume.
The ABV's related to wine can vary from as low as 9% to as high as 160%.
Sweet red wines and port or fortified wines will have a higher ABV and thus, more calories.
On the other hand, dry white wines will have a lower ABV.
Thus, the dry white wines will have fewer calories in them as a result.
Dry wine can be as low as 9% ABV.
Most wine will fall between 12 to 16% ABV.
Wine that has an ABV that falls below that 12% will most likely have between 110-130, or so, calories in it.
Also, not that it is the dry white wines that are almost always the lowest in calories.
I should also mention that there may be some wines that have sugar added to them.
Champagne is one such example of something that may have sugar added to it. Dessert wines are also higher in calories as a result of more sugar in them.
Here is how to figure out all of this calorie stuff for yourself when you want to know more about your wine.
A moment ago I recommended that you read the label on the bottle first. Look for that ABV or Alcohol By Volume. Then plug that number into this formula below.
PERCENT of ALCOHOL BY VOLUME X Ounces in the glass (usually 5) X 1.6 = Calories
If you want to be really daring with your math, an entire bottle of wine has about 25.4 ounces in it.
If the ABV is 9% then that entire bottle will have about 365.76 calories in it.
However, everything goes south in the calorie department when you choose a port wine with 19% ABV.
That bottle has over 772 calories in it. Technically though, that may still be less calories that a superjumbo margarita right?