How to Make Vegan Sushi is something that people seem to want to know.
I like that sushi can be made without adding any animal products to it.
How to Make Vegan Sushi
This is a typical Maki style sushi recipe.
However, the ingredients are all vegan diet friendly.
Have you tried my Asian Carrot Salad in Sesame Dressing?
That is another great tasting Asian influenced recipe idea.
This recipe for sushi would make for a nice complement to that salad recipe.
Confused about which vegan milk is the best to use in your recipe?
Here is what you need to know about choosing the right vegan milk..
People ask what types of sushi are vegan.
There are actually quite a few kinds of typed of sushi that are vegan.
This recipe is for a Maki style sushi, however, there are other styles of sushi that can also be made vegan.
This recipe for sushi comes in four parts.
Besides the filling for the sushi, I have included how to make the sushi rice and carrots which are quickly pickled. Also, there is the vegan mayonnaise dip to enjoy with the sushi.
You may be asking what is vegan sushi made of.
This vegan sushi is made with many of the same ingredients that a regular sushi would be made with.
Yes, rice is one of those ingredients.
Just as with regular sushi, you will also need Nori.
Nori is basically a sheet of dry seaweed. We use it to wrap around the sushi ingredients.
Tips for making sushi.
I get that not everyone likes rice, despite the authentic of it in a dish such as this one.
You can easily use a rice substitute such as grated cauliflower aka rice cauliflower.
Here are some more great tips for you.
This recipe calls for a Quick Pickled Carrots. I have provided you with the recipe for how to make this. Feel free to sub in another vegetable of the same size that can normally be pickled (cucumbers, mini corncobs etc).
Make sure that you use a Japanese short grain rice (also known as "sushi rice"). It's available in the international section of most grocery stores or online— you must use this rice! Regular long grain or jasmine rice cannot be substituted!
Personalize your sushi. You can put anything you like in the center of the rolls– radish, marinated tofu, and mango are all great options!
How to make vegan spicy mayo.
While you can use the dipping sauce of your choice, many people enjoy something with a bit of spice,. Mayonnaise based dips are common.
To make the spicy mayonnaise, simply blend together the following ingredients and allow them to set together in the refrigerator while you work.
This recipe is for anyone asking can vegans eat sushi.
However, non-vegans can make this recipe too.
Non vegan followers can simple add the meat or fish to their rolls.
By the way, while you are here you may also be interested in these ideas.
Be sure to follow me on Pinterest| Facebook | and Instagram.
Also, subscribe to my weekly newsletter!

–KEEP SCROLLING–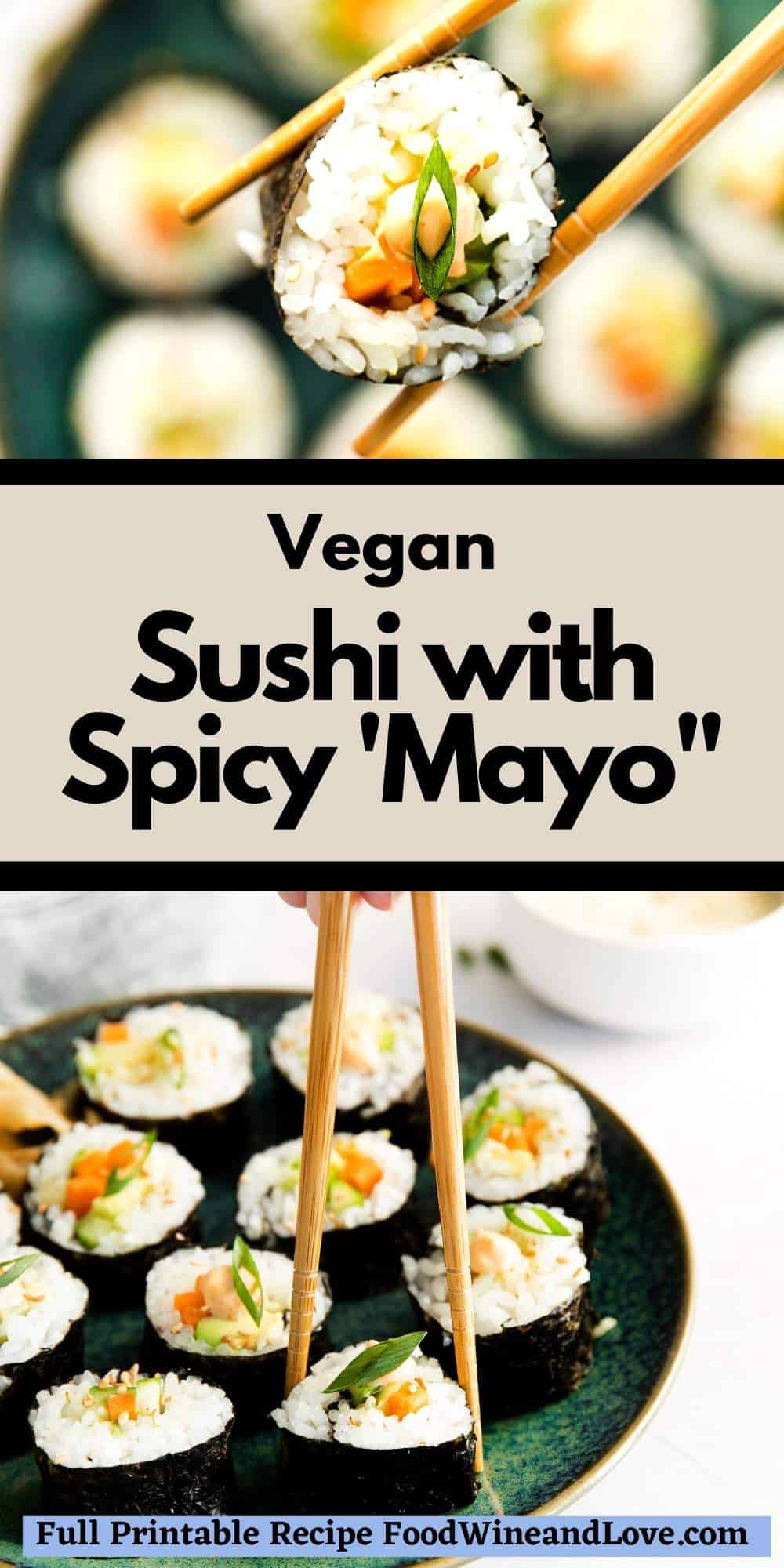 How to make Vegan Quick Pickled Carrots
Ingredients needed:
How to make Quick Pickled Carrots
Place the apple cider vinegar, water, sugar, and salt in a small, heatproof bowl. Microwave until the sugar has dissolved– about 2 minutes.
Meanwhile, place the carrots in acanning or similar kind of jar that comes with a lid .
Carefully pour the heated liquid over the carrots.
Place the jar in the refrigerator to cool for at least ten minutes.
How to make sushi rice.
You will need these ingredients.
Here is how to make the rice.
Rinse the rice until the water runs clear– about 2 minutes.
If you are using a rice cooker, add the rice and water and cook according to the manufacturer's instructions.
If you are using the stovetop method, add the rice and water to a pot and bring it to a boil. Reduce the heat to low and cover to simmer on low for 15 minutes. Turn off the heat and allow the rice to sit for an additional 10 minutes.
Combine the rice vinegar, sugar, and salt in a small, microwave safe bowl. Microwave until the sugar and salt have fully dissolved– about 1 minute.
Pour the heated rice vinegar mixture over the rice and stir the rice constantly for five to six minutes, or until the rice is cool to the touch.
Cover the rice with a damp towel and set aside until you are ready to use it to make your sushi.
.
Ingredients needed to make vegan sushi.
I have given you the recipe for the parts of this dish above.
To Make Vegan Sushi.
You will need a sushi rolling mat and a small bowl with water with a brush.
Thanks so much for visiting!
If you decide to make this recipe, please stop back and let me know how it turned out for you. Also, if you have any tips or tweaks to the recipe to share, please do so in the comment section below. My readers like to stop by periodically for updates on the recipes. Reading the comments below is helpful to these readers and hopefully to you too!!
Looking for a recipe that is not on my site?
Please let me know and I will on getting that recipe for you.
Happy baking, eating, and enjoying life!
Nutritional Information is only an estimate and can vary especially with ingredients that are used.
How to Make Vegan Sushi, a delicious recipe idea for homemade meatless sushi with Spicy Vegan Mayonnaise on the side.
Yield: 12
How to Make Vegan Sushi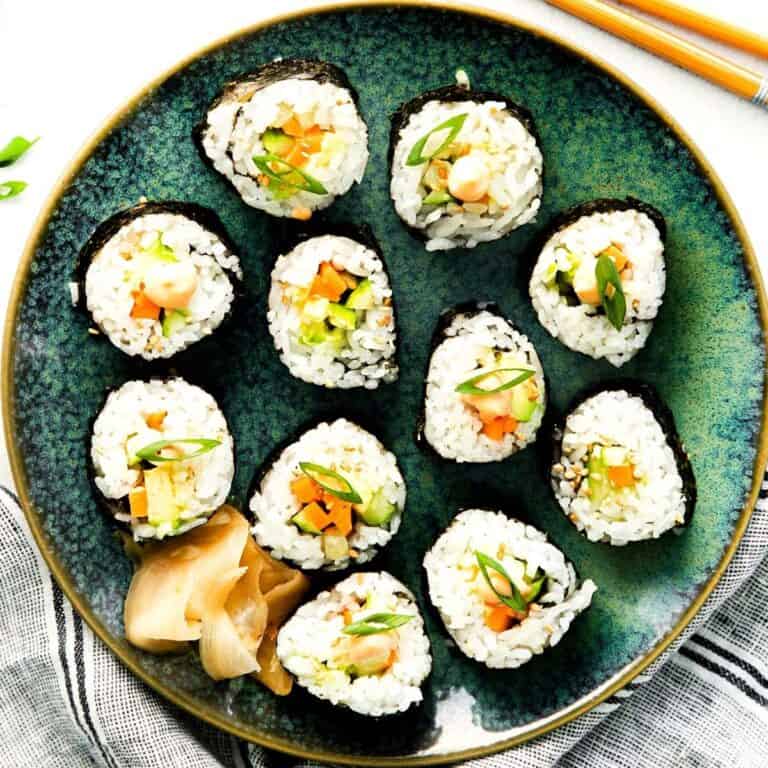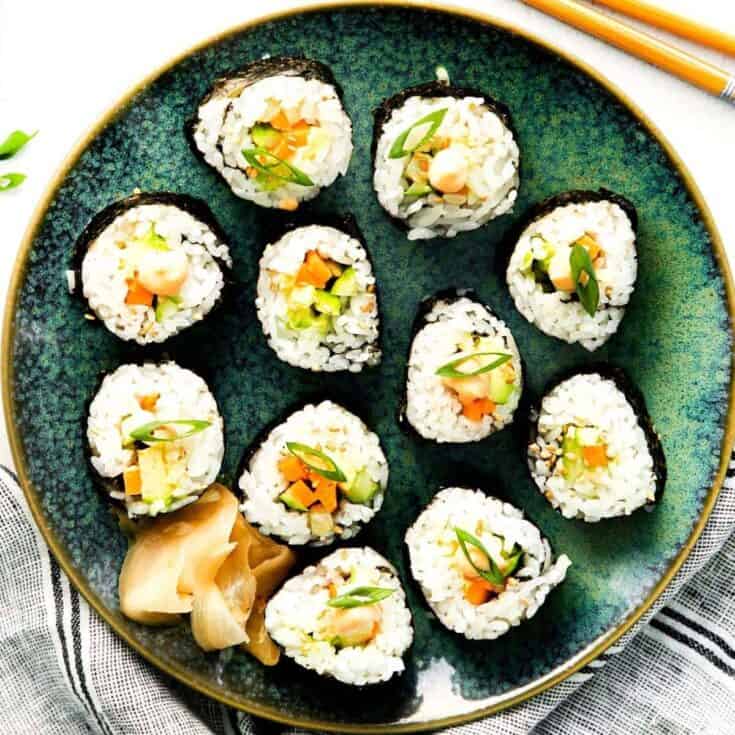 How to Make Vegan Sushi, a delicious recipe idea for homemade meatless sushi with Spicy Vegan Mayonnaise on the side.
Additional Time
20 minutes
Ingredients
I have given you the recipe for the parts of this dish on the recipe post.
Pickled Carrots- see recipe post.
Sushi Rice – see recipe post.
Spicy Mayo Dip- see recipe post.
Nori– 5 sheets.
Cucumber- 1 average sized.
Avocado- 1 firm.
Sesame seeds as needed for garnish
Instructions
Wrap a sushi rolling mat with plastic wrap (this will help keep it clean).
Place a sheet of nori on top of the plastic wrap covering the rolling mat.
Press about ⅓ cup of sushi rice onto the mat, making sure to go all the way to the edges on three sides, but leaving about 1" of exposed nori on the side farthest away from you.
Add a few slices of carrot, cucumber, and avocado to the nori on the side closest to you.
Starting from the side closest to you, roll the Nori up over the filling and continue rolling (as tightly as you can) until you reach the end of the rice.
Brush the last 1" of nori with water and then roll it to seal. Use the sushi mat to seal the roll tightly.
Using a sharp knife, cut the sushi into six to eight slices, depending on how large you like your sushi pieces to be. Garnish with sesame seeds and the vegan spicy mayo.
Enjoy immediately.

Notes
Please see foodwineandlove.com for the details on this recipe.