Instant Pot Miso Soup that tastes good and is so easy to make.
I like that this miso soup recipe is also a vegan recipe!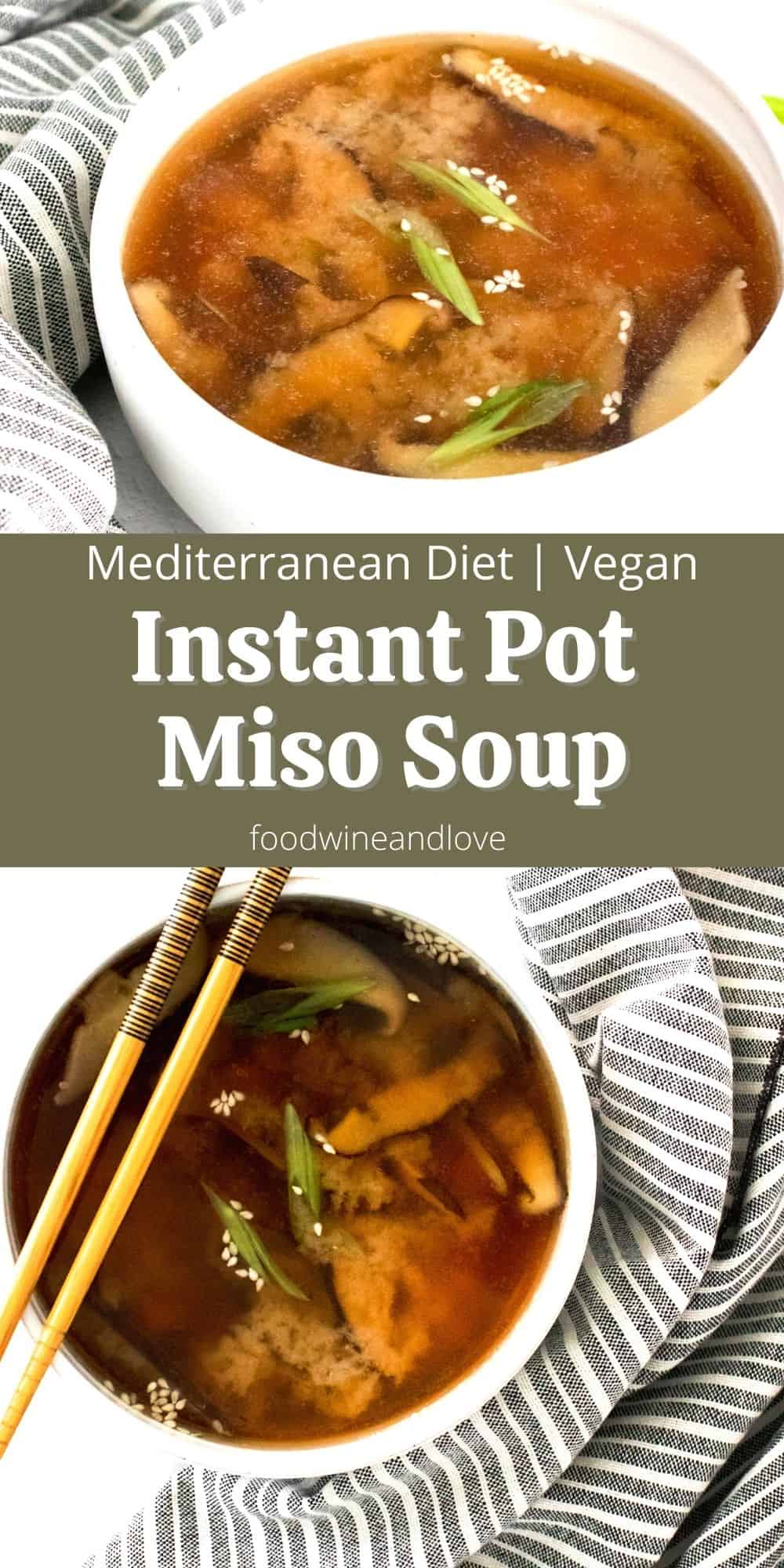 Instant Pot Miso Soup
An easy and delicious soup recipe that can be made in an instant pot.
This recipe for miso soup is vegan as well.
Did you try my Amazing Tofu Miso Soup recipe?
That Miso soup recipe is made on a stove and is also a simple soup recipe.
This Miso soup however, is made in an instant pot and is a bit more flavorful (my opinion).
Do you want to learn more about the Mediterranean Diet?
Find out how to follow the Mediterranean Diet here.
You may be wondering what is miso soup made of.
A lot of the flavor in miso soup comes from the miso paste that is added to it.
Miso paste is a rather salty tasting taste that is made from fermented soybeans.
Researchers suggest that it is okay to consume miso for health benefits.
For starters, miso has protein, fiber, as well as many vitamins in it. Even better, experts tell us that miso contains probiotics and anti-inflammatory properties that may be especially beneficial for fighting breast cancer (isoflavones can lower the risk of breast cancer).
This recipe is especially for anyone asking how do you make soup from scratch.
Making soup from scratch is more simple than you may think it it.
However, making soup that looks and tastes good from scratch can be tricky for some.
The secret to making good tasting soup from scratch is having a balance of ingredients and flavors.
The balance of ingredients includes water to add-ins such as vegetables or pasta. The balance of flavors means to some, the balance of salt that does not take over the other flavors added by the other ingredients.
Tips for making instant pot soup.
I just mentioned that part of making a successful soup has to do with a balance of ingredients. When it comes to making soup in an instant pot however, adjustments need to be made because there is less evaporation of water from cooking.
Here are some more great tips for you.
Fish sauce is a common ingredient that is used in miso soup. You can find fish sauce here or vegan fish sauce here .
This recipe for miso soup does not include the traditional dashi .
Dashi granules do contain fish flakes. You can find vegan dashi here.
This soup can be made in advance of serving. Some pots will simply switch to a 'warm' setting or you can manually switch yours to warm using the "Keep Warm" setting. Please refer to the manual to learn more about using the warm setting on your pot and for how long you can use it for.
You will probably ask what is Nori made of.
It is common for traditional miso soup to have seaweed in it.
Nori is a shredded seaweed that has been pressed into sheets.
You do have a few options if you do not want to add nori to your soup.
If you are like me and do not live by any source of fresh seaweed, you can try using kale, spinach, or even prepackaged dried seaweed.
Lastly, you may also wonder where can I find miso paste.
If you do not live by an Asian market of a market that sells Asian food, you can purchase miso paste online.
You can find lower sodium versions of miso paste here.
By the way, while you are here you may also be interested in these ideas.
Be sure to follow me on Pinterest| Facebook | and Instagram.
Also, subscribe to my weekly newsletter!

--KEEP SCROLLING--

Instant Pot Miso Soup

I mentioned above that fish sauce is a common ingredient that is used in miso soup. You can find fish sauce here or vegan fish sauce here .

Also, Nori is a shredded seaweed that has been pressed into sheets.

If you are like me and do not live by any source of fresh seaweed, you can try using kale, spinach, or even prepackaged dried seaweed.


Ingredients needed to make Instant Pot Miso Soup

How to make Instant Pot Miso Soup

Please note that settings can vary depending on the instant pot cooker that you are using. Please refer to the manual that came with your pot for details on making soups such as this one.

Start by heating the Instant Pot using the Sauté-Normal function. Then add the olive oil and allow it to heat for 30 seconds.
Stir in the mushrooms and allow to sauté until they begin to turn golden. This should take about five minutes. Next, add the water and miso paste and whisk until the miso paste has fully dissolved. Then add the tofu, nori, green onions, and fish sauce.
Attach the Instant Pot lid and heat the soup using the Pressure Cook-Manual-High Pressure setting for eight minutes. Ensure the pressure is in the "sealing" position.
When the Instant Pot has finished cooking, release the pressure manually by switching the valve to the "venting" position. Be careful-- the vent will steam and may splatter.
Serve immediately. You can store any leftover soup in an airtight container in the refrigerator for up to two days.

Thanks so much for visiting!

If you decide to make this recipe, please stop back and let me know how it turned out for you. Also, if you have any tips or tweaks to the recipe to share, please do so in the comment section below. My readers like to stop by periodically for updates on the recipes. Reading the comments below is helpful to these readers and hopefully to you too!!

Looking for a recipe that is not on my site?
Please let me know and I will on getting that recipe for you.
Happy baking, eating, and enjoying life!

Nutritional Information is only an estimate and can vary especially with ingredients that are used.

Instant Pot Miso Soup, a delicious and simple vegan recipe for homemade soup that can be made in a pressure cooker pot

Instant Pot Miso Soup

Instant Pot Miso Soup, a simple vegan recipe for homemade soup that can be made in a pressure cooker pot.

Ingredients

Olive Oil- 1 tablespoon.

Shiitake Mushrooms- 1 cup

sliced ¼″ thick

Water- 5 cups.

Miso Paste – ¼ cup.

Tofu– ¼ cup

firm.

Nori– 1 sheet cut into 1″ cubes.

Green Onions- 2

sliced ¼″ thick.

Fish Sauce- ½ teaspoon.

Optional- Dashi Granules– up to 3 teaspoons. Dashi granules do contain fish flakes. You can find vegan dashi here.

Instructions

Please note that settings can vary depending on the instant pot cooker that you are using. Please refer to the manual that came with your pot for details on making soups such as this one.



Start by heating the Instant Pot using the Sauté-Normal function. Then add the olive oil and allow it to heat for 30 seconds.

Stir in the mushrooms and allow to sauté until they begin to turn golden. This should take about five minutes. Next, add the water and miso paste and whisk until the miso paste has fully dissolved. Then add the tofu, nori, green onions, and fish sauce.

Attach the Instant Pot lid and heat the soup using the Pressure Cook-Manual-High Pressure setting for eight minutes. Ensure the pressure is in the "sealing" position.
When the Instant Pot has finished cooking, release the pressure manually by switching the valve to the "venting" position. Be careful-- the vent will steam and may splatter.

Serve immediately. You can store any leftover soup in an airtight container in the refrigerator for up to two days.




*As an Amazon Associate I earn from qualifying purchases. This means that the links on this website, and specifically on this post, that lead to other sites may be affiliate links.

Nutrition

Serving:

1

g

|

Calories:

103

kcal

|

Carbohydrates:

4

g

|

Protein:

11

g

|

Fat:

5

g

|

Saturated Fat:

1

g

|

Polyunsaturated Fat:

3

g

|

Cholesterol:

17

mg

|

Sodium:

872

mg

|

Fiber:

1

g

|

Sugar:

1

g

Please note: Nutritional data has been calculated using a tool that comes with this recipe card and not by me. This means that Nutritional Information is only an estimate and can vary especially with ingredients that you use. The accuracy of this tool may differ from other tools as expected. Also note that there is no instructional value to the video that may be attached to this recipe. It is only there for visual pleasure. For more information about the images in this recipe, please refer the the recipe instructions. Thank you!

---

Follow Me