Mediterranean Diet Falafel Bowl screams healthy and colorful to me.
I also like how tasty this recipe is!
Mediterranean Diet Falafel Bowl
This is a meal bowl with a Mediterranean diet twist.
You can serve this bowl as a meal in itself!
Did you try my recipe for Chipotle and Roasted Pepper Hummus?
That hummus recipe would go nicely with this recipe.
I would serve it with some baby carrots and celery on the side!
Do you want to learn more about the Mediterranean Diet?
Find out how to follow the Mediterranean Diet here.
You may be wondering what is a meal bowl?
Meal bowls are becoming more and more popular.
This popularity could have something to do with the ease of serving a meal all in one bowl.
As you may have guessed, a meal bowl is a bowl that has everything (or close to everything) that you need to serve a meal.
The meal bowl will have the main dish as well as the sides served together on a large platter or bowl. This allows people to serve themselves.
What foods do you eat in a bowl?
If you were making up a food bowl for one, you could put anything you would like to eat as a meal in that bowl. I like to make a food bowl with a salad and toppings that include a protein and some fruit for example in my food bowl.
Food bowls made for more than one person tend to be a bit more structured.
This structure is because a food bowl for more than one is generally not intented to be eaten from. Instead, people can serve themselves from the food bowl.
Tips for making a food bowl.
This food bowl is made from a chip and dip platter that has a center bowl.
This is because the falafel, which should stay dry, can be separated from the other ingredients.
Here are some more great tips for you.
The falafel in this recipe is baked in an oven. Feel free to use an air fryer or your favorite method for making it.
The salad that is used in this recipe has a Mediterranean diet friendly Ranch dressing. You are welcome to use the salad or dressing of your choice.
I prefer to form my falafel at the same time. This makes it easier to bake them all evenly.
How to make the Mediterranean diet friendly Ranch salad.
This recipe calls for a Mediterranean diet friendly Ranch dressing with the salad.
If you are interested in other Mediterranean diet friendly salads, simple see my many recipes for salads here.
To make the salad, simply toss together the following ingredients and then add them to the outer rim of your serving platter.
How to store leftover falafel salad.
If you have leftovers from the platter, separate the dry (falafel) from the wet (salad) ingredients. Then store the ingredients in an airtight container refrigerated for up to two days for best results.
By the way, while you are here you may also be interested in these ideas.
Be sure to follow me on Pinterest| Facebook | and Instagram.
Also, subscribe to my weekly newsletter!

--KEEP SCROLLING--
About this recipe for falafel with salad.
There are two parts to this recipe. The first part is making the falafel and the second part is making the salad.
The baked falafel is placed in the center of the platter for serving.
Then the salad is tossed before placing it around the falafel. It is recommended that you use serving utensils for serving this recipe.
Ingredients needed to make falafel.
How to make Mediterranean Diet Falafel Bowl.
Thanks so much for visiting!
If you decide to make this recipe, please stop back and let me know how it turned out for you. Also, if you have any tips or tweaks to the recipe to share, please do so in the comment section below. My readers like to stop by periodically for updates on the recipes. Reading the comments below is helpful to these readers and hopefully to you too!!
Looking for a recipe that is not on my site?
Please let me know and I will on getting that recipe for you.
Happy baking, eating, and enjoying life!
Nutritional Information is only an estimate and can vary especially with ingredients that are used.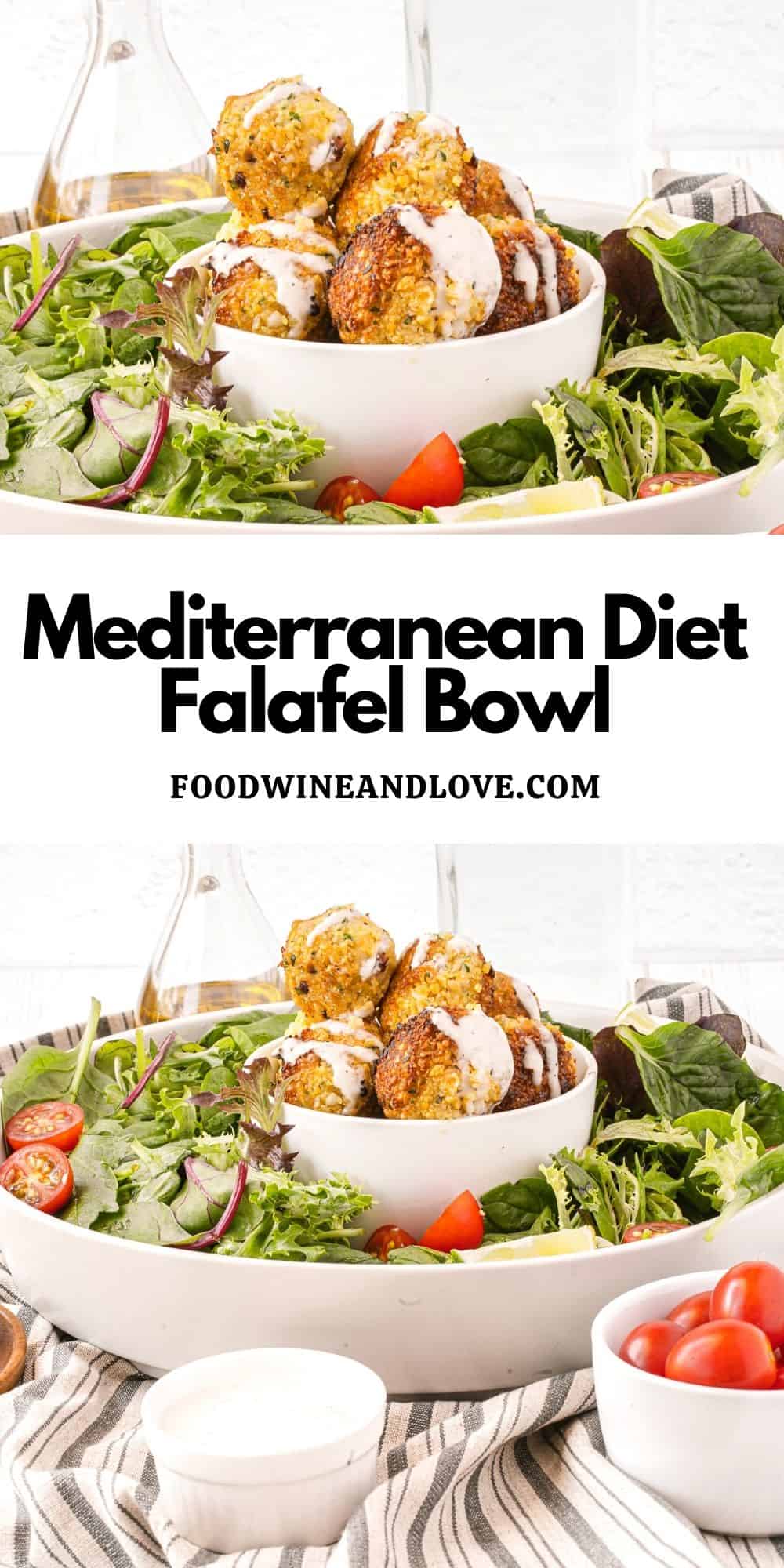 Mediterranean Diet Falafel Bowl, A tasty meal idea made with homemade falafel surrounded by a healthy salad.
Mediterranean Diet Falafel Bowl
Mediterranean Diet Falafel Bowl, A tasty meal idea made with homemade falafel surrounded by a healthy salad.
Ingredients
Seasonings as desired. This can include Italian Seasonings, Mediterranean Diet Seasoning Blend, Greek Seasoning Blend, Salt, and/or Pepper. Salad with dressing as described in post recipe. Read more at: https://foodwineandlove.com
Instructions
In a food processor or good blender, you can pulse together the garlic, chickpea flour and onion. Then add the chickpeas and seasonings and blend until you reach a granular-like texture.

Transfer the chickpea mixture to a bowl and add the flour and desired seasonings. Mix the ingredients well, however, you may need to use a masher to break up the chunks. You want a paste-like texture to result.

Preheat your oven to 375 and prep two baking sheets for nonstick. Use a scoop or tablespoon to scoop out enough dough to form golf-ball size balls of falafel. Place the individual falafel balls on to the prepped baking sheets and slightly press them in. Then bake for 10, flip the falafel over and continue to bake for another 10-12 minutes.

Make the salad in a large bowl and refrigerate it until you are ready to serve it. To serve the bowl, you can place the baked and somewhat cooled falafel in the center of the platter and distribute the salad evenly around it.
Recipe Notes
*Please check the nutritional labels to assure that you are sticking to your diet restrictions for any substitutions used.
- see post for alternatives
Please see recipe post for further details on this recipe.
Nutritional Information is only an estimate and can vary especially with ingredients that are used.
See foodwineandlove.com for details on this recipe.
*As an Amazon Associate I earn from qualifying purchases. This means that the links on this website, and specifically on this post, that lead to other sites may be affiliate links.
Nutrition
Calories:
140
kcal
|
Carbohydrates:
23
g
|
Protein:
7
g
|
Fat:
2
g
|
Saturated Fat:
1
g
|
Polyunsaturated Fat:
1
g
|
Monounsaturated Fat:
1
g
|
Sodium:
14
mg
|
Potassium:
295
mg
|
Fiber:
5
g
|
Sugar:
5
g
|
Vitamin A:
18
IU
|
Vitamin C:
3
mg
|
Calcium:
37
mg
|
Iron:
2
mg
Please note: Nutritional data has been calculated using a tool that comes with this recipe card and not by me. This means that Nutritional Information is only an estimate and can vary especially with ingredients that you use. The accuracy of this tool may differ from other tools as expected. Also note that there is no instructional value to the video that may be attached to this recipe. It is only there for visual pleasure. For more information about the images in this recipe, please refer the the recipe instructions. Thank you!
---
Follow Me