This 5 Foods to Pair With Sauvignon Blanc are really great choices.
I like that there is something for everyone in these too.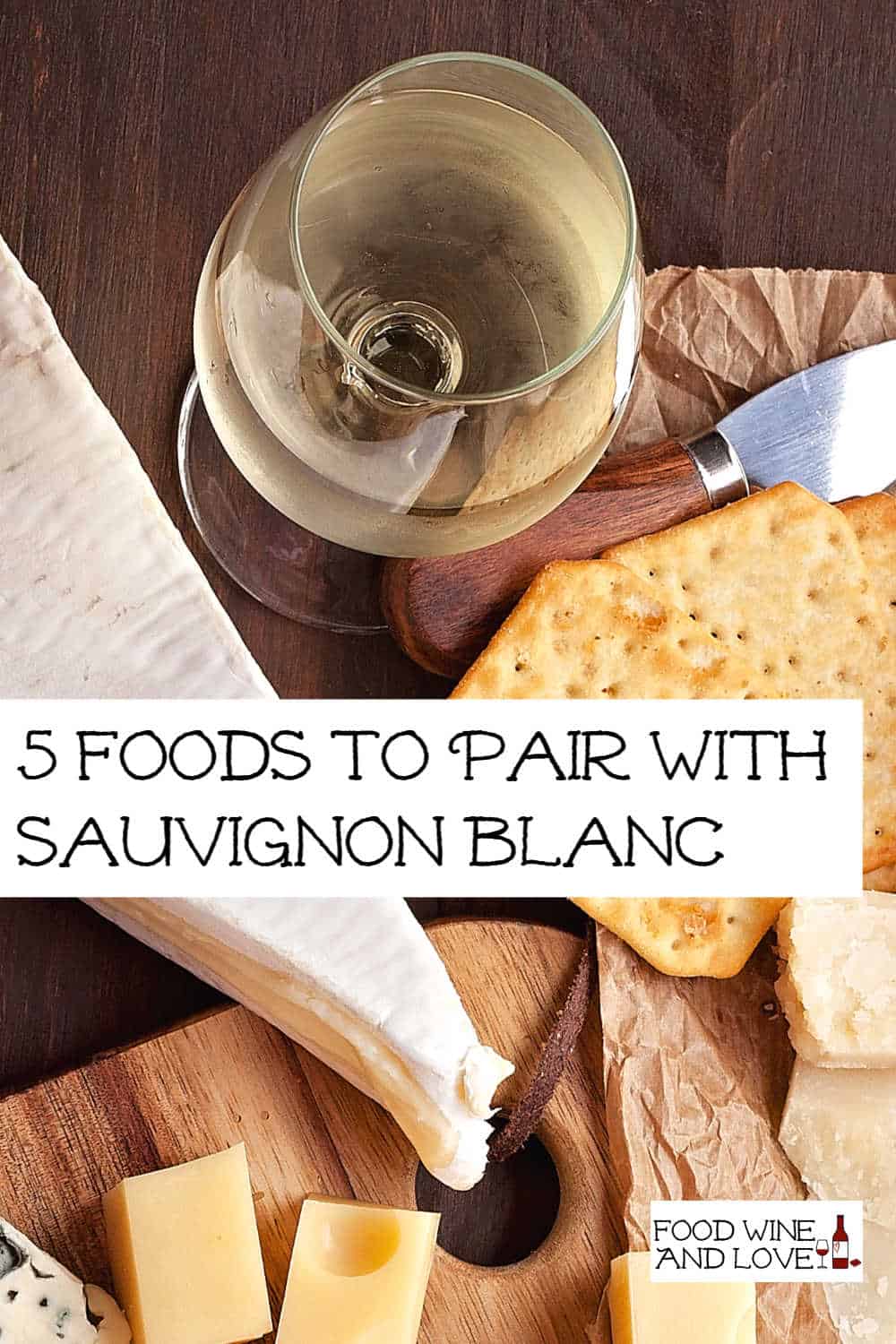 Because, wine tasting should go with the perfect food.
Also, wine and food are, as we already know, a perfect pairing together.
When I entertain, I like to offer a red wine and a white wine.
One wine will tend to be sweet and the other will be more dry.
You really cannot go wrong with your guest when you offer a variety such as this one.
Sauvignon Blanc is a popular white wine in the US.
If you are familiar with this wine then you probably already know that it can be a dry wine or sweeter wine. The sweetness (or dryness) really depends on the acidity of the wine. However, Sauvignon Blanc as we know it in the US is usually prepared and bottled as a dry wine.
When we pair wine with food we want to balance out the tastes.
The flavor of Sauvignon Blanc ranges from a really grassy taste to a more sweetly tropical. A lot of this has to do with where the grapes are grown and in what season of the year the grapes are picked. Confusing right?
The good news about Sauvignon Blanc is that there are many varieties of it.
By varieties, I mean that because it comes in different levels of dryness, you can almost find one to please everyone. Also, this can be a relatively inexpensive wine- at least in the US. You can conveniently purchase a bottle for under $20 and that bottle may also come without a cork- making it even nicer to take with you (picnics etc).
Did you know that you can buy Sauvignon Blanc online?
Here is Nobilo Sauvignon Blanc.
This is a product of New Zealand. New Zealand is a popular location for sweeter or dessert friendly Sauvignon Blanc.
By the way, while you are here you may also be interested in these ideas.
Be sure to follow me on Pinterest Facebook and Instagram.
Also, subscribe to my weekly newsletter!

5 Foods to Pair With Sauvignon Blanc
We are going to focus on a grassy and citrus fruit tasting Sauvignon Blanc as this is the most common.
Cheese.
I know, cheese is the obvious choice here. However, you want a cheese that will balance out the taste of the citrus in the wine.
A cheese with a 'tangy' taste offers a great balance to Sauvignon Blanc. Goat cheeses are a popular choice.
How about some green vegetables with your Sauvignon Blanc?
'Spring' vegetables are a popular choice. An easy vegetable to serve could be asparagus.
Serve your Sauvignon Blanc with your salad.
Even better would be a green salad with a vinaigrette dressing. Combine your salad with a bit of goat cheese as well!
Also, fish can go well with Sauvignon Blanc.
Oysters go with Sauvignon Blanc. But, also the more 'delicate' fish work well here as well.
And of course, pasta.
We know that pasta goes with about anything wine- at least in my world. However, tomatoes are a wonderful balance to to Sauvignon Blanc.
So, top your pasta with some tomatoes (sauce too) and serve it with that green salad with goat cheese and you will be very Sauvignon Blanc popular!