This Mediterranean Diet Guide to Olives tells us why they are so good for you.
There are so many great tasting olives and so many reasons to enjoy eating them!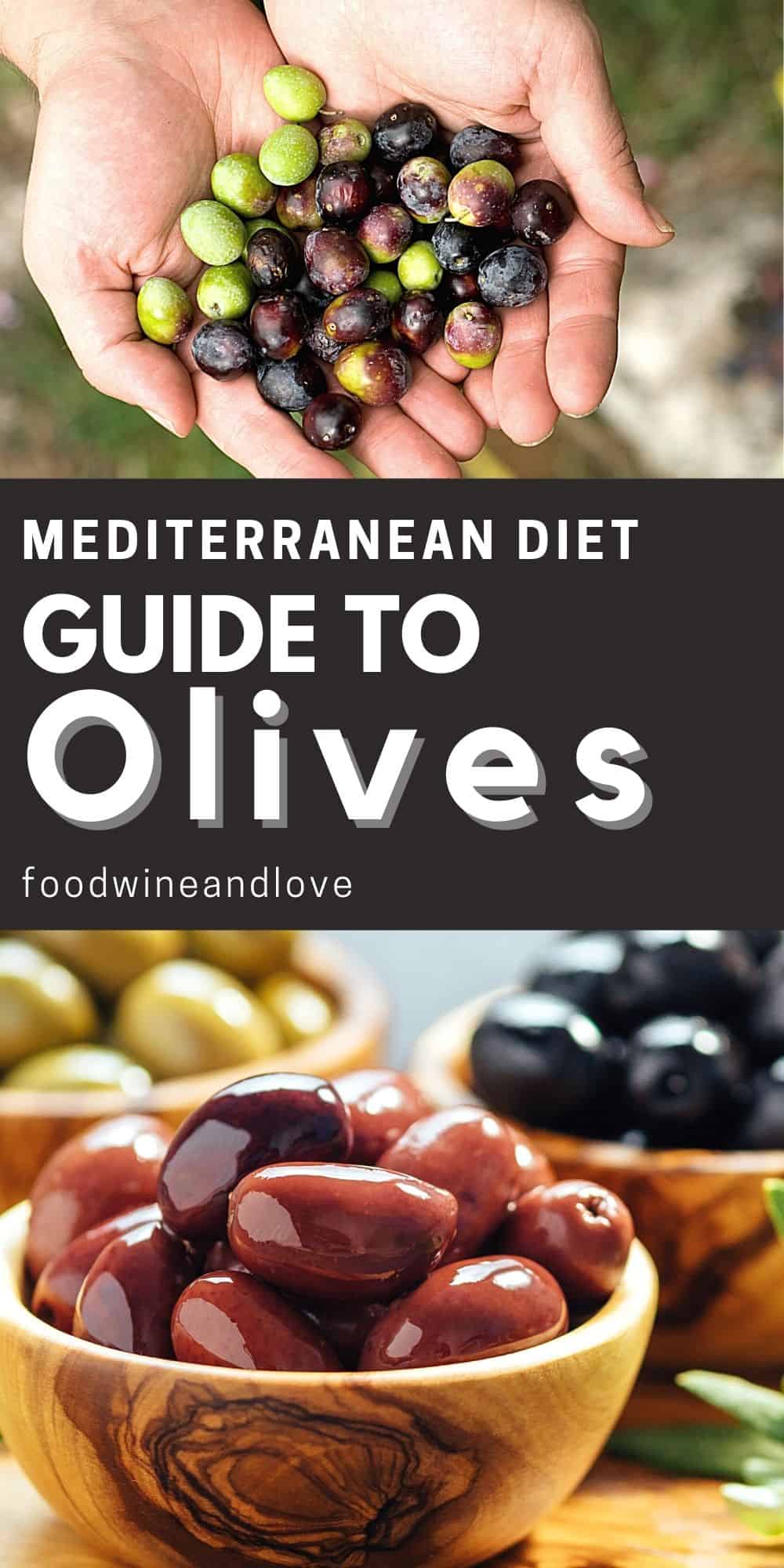 Mediterranean Diet Guide to Olives
This is an easy guide for anyone following the Mediterranean diet.
I like that there are so many reasons to enjoy olives too!
Did you try my Greek Chickpea salad recipe?
That salad recipe is one of many recipes that I have posted that includes olives.
The olives in that recipe give the salad both flavoring and color that helps make the salad so delicious.
Do you want to learn more about the Mediterranean Diet?
Find out how to follow the Mediterranean Diet here.
You may be asking, what are the benefit of eating olives?
Olives, as you may already know, are a cornerstone ingredient in the Mediterranean diet. For followers of the Mediterranean diet because it is a healthy diet and not necessarily living in the Mediterranean area of the world, you may already know of some of these benefits.
There are some impressive nutritional benefits associated with eating olives.
Olives are a good source of vitamin e, good monounsaturated fat, polyphenols and flavonoids (antioxidants with anti-inflammatory benefits). This means that researchers tell us that olives are good for the heart, blood, and maybe even cancer.
People ask, is an olive a fruit or a vegetable
Olives grown on trees and as a result, are considered to be a fruit. More specifically, a 'stone fruit' as they have that well-known pit in them.
Olives originated in the Mediterranean areas of the world.
Today you can find olives growing in not only the Mediterranean areas but, the U.S., Asia and even Africa.
You may be wondering re green or black olives healthier?
Black and green olives are technically the same thing.
The actual difference between green and black olives is how ripe they are as they are picked at different times of their ripeness.
Green olives are the first to be picked and are picked before they are ripened.
Black olives, are picked when they are are filly ripened. Their actual color can vary from dark purple to black as well.
moderation
Facts about olives.
Olives are sugar free, cholesterol free, low carb, and come with some fiber, making them a darling of keto and low carbohydrate diets.
The foundation and the dynamic spark of Mediterranean dishes for thousands of years are olives and olive oil. Some believe that neolithic man gathered olives around 10,000 years ago.
Olives come in all shapes, sizes, colors, and flavors. Straight off the tree, the olive is bitter. The secret of olives is in the cure. Also, the curing process is what gives each olive its distinctive, unique flavor.
The most popular olives in the US.
The typical olive in the United States is either the black olive or the green olive. You probably have some in a cabinet or have eaten one recently,
Like wine, olives in the United States are more commonly grown in California.
Another name for Manzanillo Olives is 'green olive'. The black olive is commonly known as the 'Mission Olive'.
Commonly known as the "Green Olive".
This is what you are most likely to see on a store shelf or served with a meal. It is cured to give it a more salty flavor. Originally from Spain, this olive sometimes stuffed with pimentos or even a pepper or cheese.
Manzanillo Olives are easy to pit and they have an exceptional flesh.
This olive is also an excellent table olive because of its rich taste. Even better, the Manzanillo olive is used to make olive oil since the oil content is 20.3%.
Facts about Mission Olives
The Black or mission olive has been in California since 1769 where it was grown in the Spanish missions in Southern California to Northern California. The mission olive is a medium size oval olive that turns deep purple that changes to jet-black when mature.
The taste of the Mission Olive can be intensely bitter.
The black or Mission olive is best used as pickles or cold-pressed oil. Cold-pressed oil is a chemical-free process that makes a higher quality of olive oil, which is lower in acidity. Extra pure virgin olive oil is the cold pressing result of the first pressing of olives. In other words, the olives go through a pressing process that squeezes the oil from the olives.
The Kalamata Olive is a lesser common olive seen in the US.
This is the dark purple or black olive that is commonly eaten with salads or Greek dishes. This olive comes in jar and is preserved in a wine vinegar or olive oil.
Kalamata olives are a black olive that is not commonly harvested before becoming ripe.
This means that you will not find a green Kalamata olive on your store shelf.
Kalamata olives got their name from the area of Greece in which they have originated from.
Here are some less common olives that you may have heard of.
Ascolano: This olive does not turn black when ripe. This fruit has a delicate taste. The Ascolano olive is cured in a pickling process.
Barouni: This is a green, extra-large and oval-shaped olive. Imported from North Africa and grown in California, Barouni olives do well in unusually cold or hot climates.
Gordal: This olive is a large, oval-shaped green olive with purple tones. It is more mature than normal green olives and has a sweeter flavor. Gordal ripen early and is either pickled or cured as a table olive.
Picholine: This is an olive from a native tree of France which produces a medium-sized, elongated fruit. Ironically, the Picholine olive is harvested green for eating and black for oil. This cured olives have a subtle, slightly salty, nutty flavor. The curing process is in salt-brine. Most olive connoisseurs consider it a gourmet olive.
By the way, while you are here you may also be interested in these ideas.
Be sure to follow me on Pinterest| Facebook | and Instagram.
Also, subscribe to my weekly newsletter!

--KEEP SCROLLING--
What is the best way to eat olives?
Well you probably already know that most olives taste just great right out of the can or bottle.
However, you could just use your olives to complement a beverage or a meal (think toothpicks).
But, you can easily add your olives to one of your great tasting recipes too!
When you add sliced olives to stuffing, hummus, or a seafood salad, you can make those recipes taste even better. Don't forget that you can make your olives into their own great recipe by making a tapenade (Kalamata, Spanish or Greek are great when you use them for this!).
How you can Store Olives
Olives that are purchased from a grocery store in a can or bottle, are usually preserved to make them last longer. It is usually best to store the olives in their liquid as a result.
If your olives come in a can, it is a good idea to transfer the olives and the liquid to an air tight container.
An unopened jar or can of olives can be stored at room temperature for up to a couple of years. Refrigerated opened jar of olives or transferred from a can olives, can be kept in an air tight container from two weeks to a month or longer (read the label because they may have some kind of preservative).
How to use olives
You already know that olives can be enjoyable when eaten from the can or the jar.
Also, you probably have seen an olive on a toothpick making a beverage or sandwich look even more appealing,
Here are some more ways that you can eat olives.
You can easily slice up your olives and place them on top of a pizza or stir them into a tasty dip or tapenade. Perhaps, you can simply enjoy olives along with cheese on a charcuterie board: or serving platter for you to eat or serve to others.
Olives are a versatile fruit. However, recipes that use olives are tasty and thus sophisticated. Olives add zest to life.  
Thanks so much for visiting!
If you decide to make one of my recipes, please stop back and let me know how it turned out for you. My readers like to stop by periodically because of updates on the recipes. Reading the comments below is helpful to these readers and hopefully to you too!!
Looking for a recipe that is not on my site?
Please let me know however, and I will thus try getting that recipe for you.
Happy baking, eating, and thus enjoying life!
Mediterranean Diet Guide to Olives, nutritional facts and uses for olives that are common to the Mediterranean diet.