Vegan Mediterranean Diet Snack Board that is perfect for parties and gatherings.
I like how healthy this idea can be.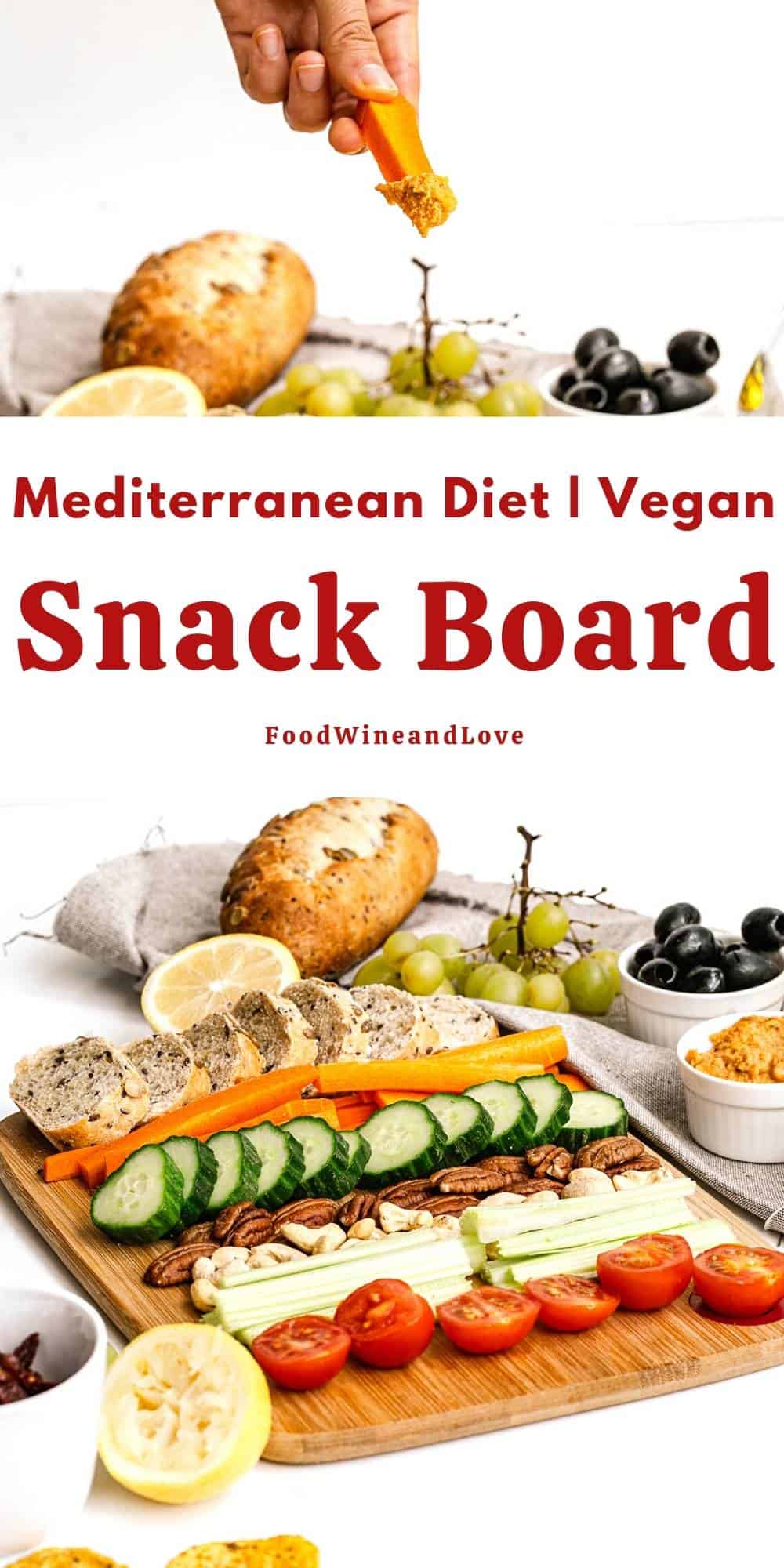 Vegan Mediterranean Diet Snack Board
A simple snack board that is friendly to Vegan and Mediterranean diets.
This appetizer board is made without adding dairy, meat, or a lot of fat!
Did you see my Mediterranean Diet Charcuterie board?
That Charcuterie board is another snack board idea that also features pasta.
This board does not have pasta or meat in it.
Do you want to learn more about the Mediterranean Diet?
Find out how to follow the Mediterranean Diet here.
You may be wondering what is a snack board.
A snack board is simply a platter filled with easy to serve and easy to eat food.
Snack boards are the perfect idea for gatherings such as parties.
There are many different names for snack boards.
Mezze boards are a popular way to serve up a variety of foods in Mediterranean regions.
Charcuterie boards are more like snack boards that feature meat.
People ask what foes on a snack board.
There are two basic rules that can help to choose what goes on to a snack board.
The food should be easy to eat and there should be a variety of foods.
The food on snack boards should be bite sized if possible.
Having a theme to a snack board is a good idea too.
This help coordinate the food to put onto the board and allows for some of the food to be combined together to eat!
Tips for making a healthy snack board.
Having a variety of food is a good idea.
This is because not everyone will like everything but, most everyone will like something on your board.
Here are some more great tips for you.
Because this is both a vegan and a Mediterranean diet idea, you should avoid using anything that overly processed. This means meats, fats, and those overly-salty crunchy snacks.
This is really a tip for any kind of a platter or board. Use labels or tags to identify each ingredient on your board to make it easier on your guests. You can find a good variety of tags and labels for charcuterie boards here.
It is customary to serve your board or platter with individual plates for each guest.
You should also provide plenty of serving utensils so that people do not have to touch the food while serving themselves.
There are five elements to this Vegan Mediterranean Diet Snack Board Platter.
Those elements represent a variety of categories that complement one another while making the board interesting. However, these categories vary in texture, flavors, colors, and use.
Here are the categories or elements in this tasty board:
Fruit element.
Vegetable element.
Crunchy elements.
Bread element.
Dip element.
Some food items come with some kind of juice or may have difficulty staying in place ( such as olives.)
Use some kind of a shallow bowl or plate to hold these kinds of items. You can find shallow bowls and other helpful accessories here.
Jump to Recipe
By the way, while you are here you may also be interested in these ideas.
Be sure to follow me on Pinterest| Facebook | and Instagram.
Also, subscribe to my weekly newsletter!

--KEEP SCROLLING--
How to make hummus for your snack board.
Use a food processor or strong blender to combine the following ingredients.
You can top with a drizzle of olive oil.
Feel free to adjust the ingredients as needed.
How to Make a Mediterranean Diet and Vegan Board
Start by choosing the right equipment that you will need to serve your ingredients with.
Not only should you consider what you will use as a board, you should consider how people will eat your food.
Here is a quick list of equipment to consider for a charcuterie board.
How to Make a Vegan Mediterranean Diet Board
The secret to making the best kind of charcuterie board is variety.
A variety of textures, flavors, colors, method of eating, and food groups.
Keep the food simple.
Have some kind of a plan on where you will you be placing food on the board.
Balance out the placement by color, textures, kind of food, and ease of serving.
Fruit element- grapes, cherry tomatoes, sundried tomatoes, and olives.
Vegetable element- carrots, cucumber, and celery.
Crunchy elements- pecans, cashews, or peanuts.
Bread element- bread, chips such as Chickpea chips and garlic toasted flatbread chips.
Dip element - hummus.
Thanks so much for visiting!
If you decide to make this recipe, please stop back and let me know how it turned out for you. Also, if you have any tips or tweaks to the recipe to share, please do so in the comment section below. My readers like to stop by periodically for updates on the recipes. Reading the comments below is helpful to these readers and hopefully to you too!!
Looking for a recipe that is not on my site?
Please let me know and I will on getting that recipe for you.
Happy baking, eating, and enjoying life!
Nutritional Information is only an estimate and can vary especially with ingredients that are used.
How to make a Vegan Mediterranean Diet Snack Board, a delicious idea for gatherings filled with healthy vegetables and other ingredients.