Easy Vegan Pumpkin Bread Recipe is a delicious plant-based version of the traditional pumpkin bread we all seem to love.
This tasty pumpkin bread is moist and flavorful with an accent of spices that you would expect from a great tasting pumpkin recipe.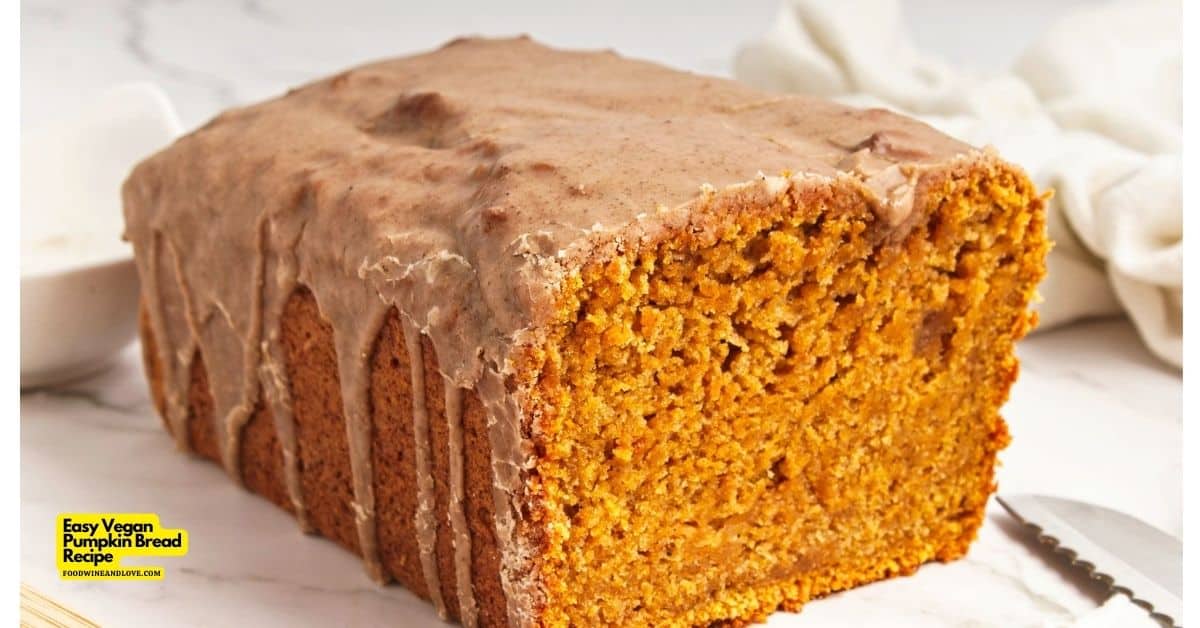 Vegan pumpkin bread recipe.
This is a nut free and soy free recipe that contains no animal products such as eggs, dairy, or honey.
I like how this bread has the same taste and texture of a traditional pumpkin bread.
Did you try my recipe for Vegan Pumpkin Pie?
That pie recipe is made with just five ingredients in addition to the crust. Both this recipe for pumpkin bread and that recipe for pumpkin pie are easy and delicious vegan recipe made with pumpkin.
This recipe is seasoned with pumpkin pie spice. You can find a selection of pumpkin pie spice here.
What people also ask about pumpkin bread.
What kind of pumpkin should you use to make baked pumpkin recipe with?

Most baked pumpkin recipe that are not pie, such as this recipe call for using pumpkin puree. Pumpkin puree is made from "Sugar Pumpkins" rather than the larger carving pumpkins that are used for decorating purposes.

Sugar pumpkins are sweeter and contain more meat than a carving pumpkin.
It is the flavor of these pumpkins that make them perfect for baking with. You can still enjoy snacking on those baked seeds from the larger carving pumpkins however.
What is the difference between pumpkin puree and pumpkin pie filling?

Baking recipes commonly call for pumpkin puree. Pumpkin puree is simply the meaty part of a baking or sugar pumpkin that has been cooked and pureed.

Pumpkin pie filling on the other hand, has additional ingredients added to it. These ingredients, such as sugar and seasonings, are added to make pumpkin pie filling a quick and easy ingredient to fill a pie crust with before baking.
Tips for making pumpkin bread with no eggs.
Pumpkin puree is an essential ingredient in this recipe as it provides flavor, texture, and color to the bread. I like to use a canned pumpkin puree that has no added ingredient in it (such as sugar).
Here are some more great tips for you.
All purpose flour is used in this bread recipe. Feel free to sub in another flour, as long as it measures like all purpose flour, such as a gluten free all purpose flour or a whole wheat all purpose flour.
I have added an optional vegan glaze that can be used to top this bread with. You can also add additional ingredients such as walnuts or raisins to make your bread even better.
Oat milk is used in this recipe as a wet ingredient as it is preferred for the texture and flavor. You can use another vegan milk if desired however.
How to store dairy free pumpkin bread
Once your pumpkin bread has fully cooled you wrap it well (in foil or plastic wrap for example) or place it in an airtight container. If properly stored, this bread should keep for up to a few days at room temperature, refrigerated for up to a week, or up to a couple of months when frozen.
By the way, while you are here you may also be interested in these ideas.
Keep up to date with my recipes!
👉Be sure to follow me on Pinterest | Facebook | and Instagram.
Also, subscribe to my weekly newsletter!
--Keep Scrolling to Finish Reading--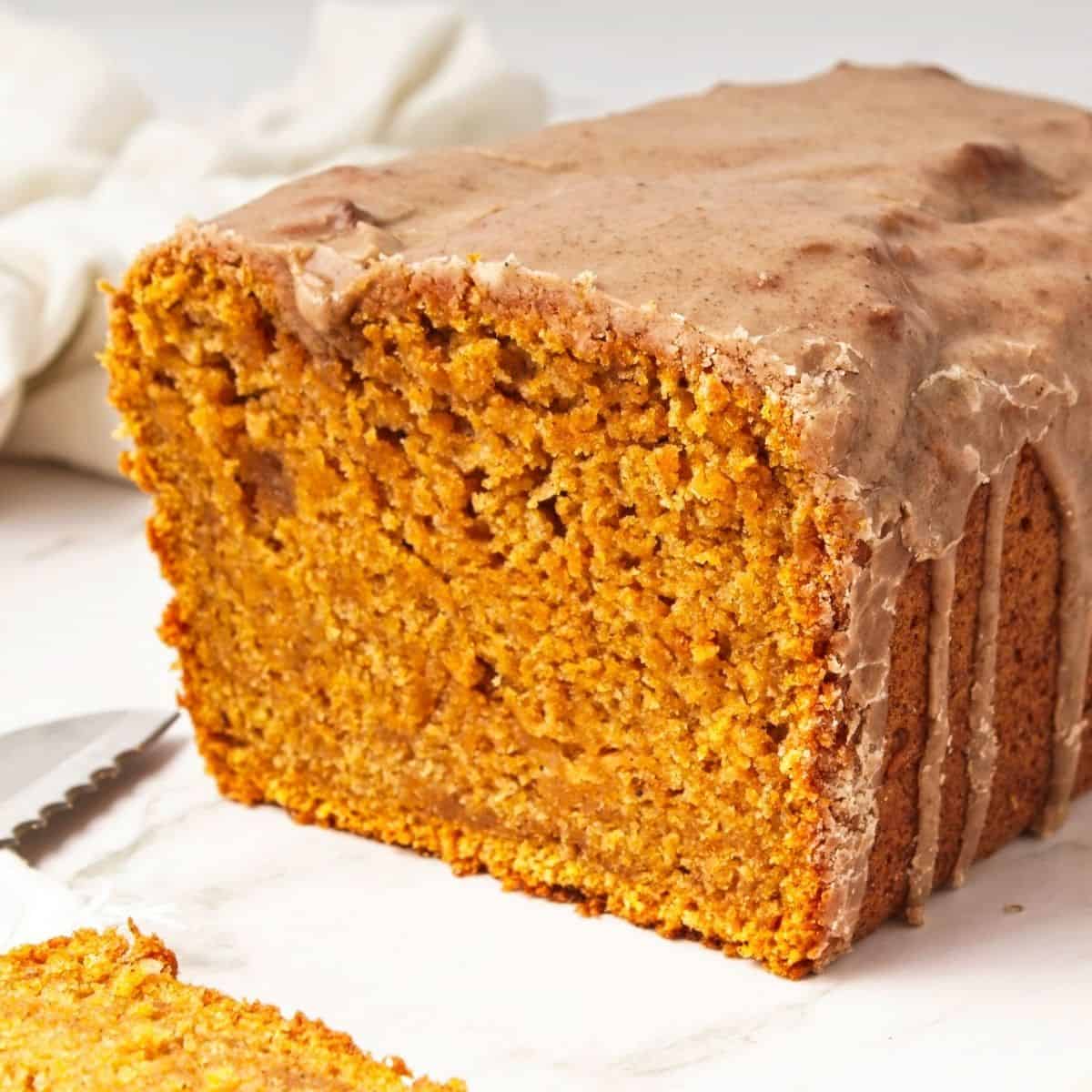 Easiest pumpkin bread recipe.
This is a simple and classic pumpkin bread recipe made with no added dairy.
It takes about 15 minutes to make this recipe and about an hour to bake it.
How to serve vegan pumpkin bread.
Expert Tip 👉 To make this recipe more Mediterranean diet friendly, you can cut the sugar used to one third cup, use unsweetened almond milk, and skip the glaze.
Ingredients need to make pumpkin bread without dairy.
Expert Tip 👉 Many basic ingredients, such as flour or sugar, may not be labeled as "vegan". It is always best to read the ingredient list to make sure that the ingredients you are using are indeed vegan friendly.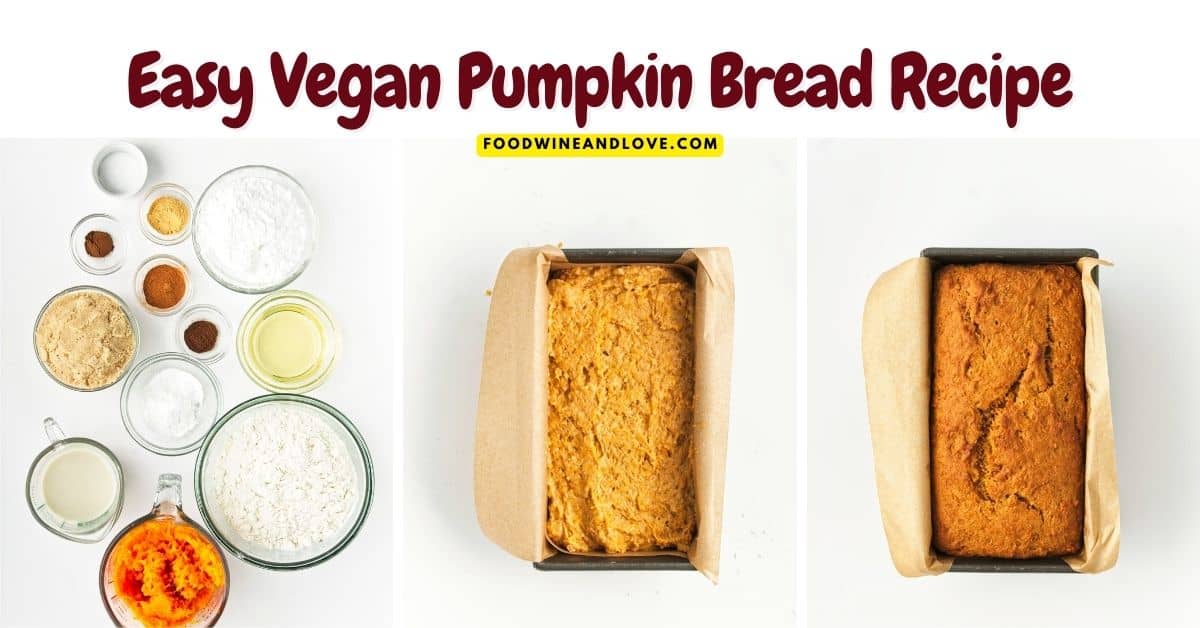 Servings: 12 slices.
Prep Time: 15 minutes.
Bake Time: 1 hour.
Cooling Time: 30 minutes.

How to make Easy Vegan Pumpkin Bread
Expert Tip👉 A step mentioned above calls for allowing the bread to sit in the loaf pan for ten minutes after baking before transferring it to a wire cooling rack. This is done to prevent condensation on the bread which can make the bottom soggy.
👇👇👇 Related recipes you may also be interested in.👇👇👇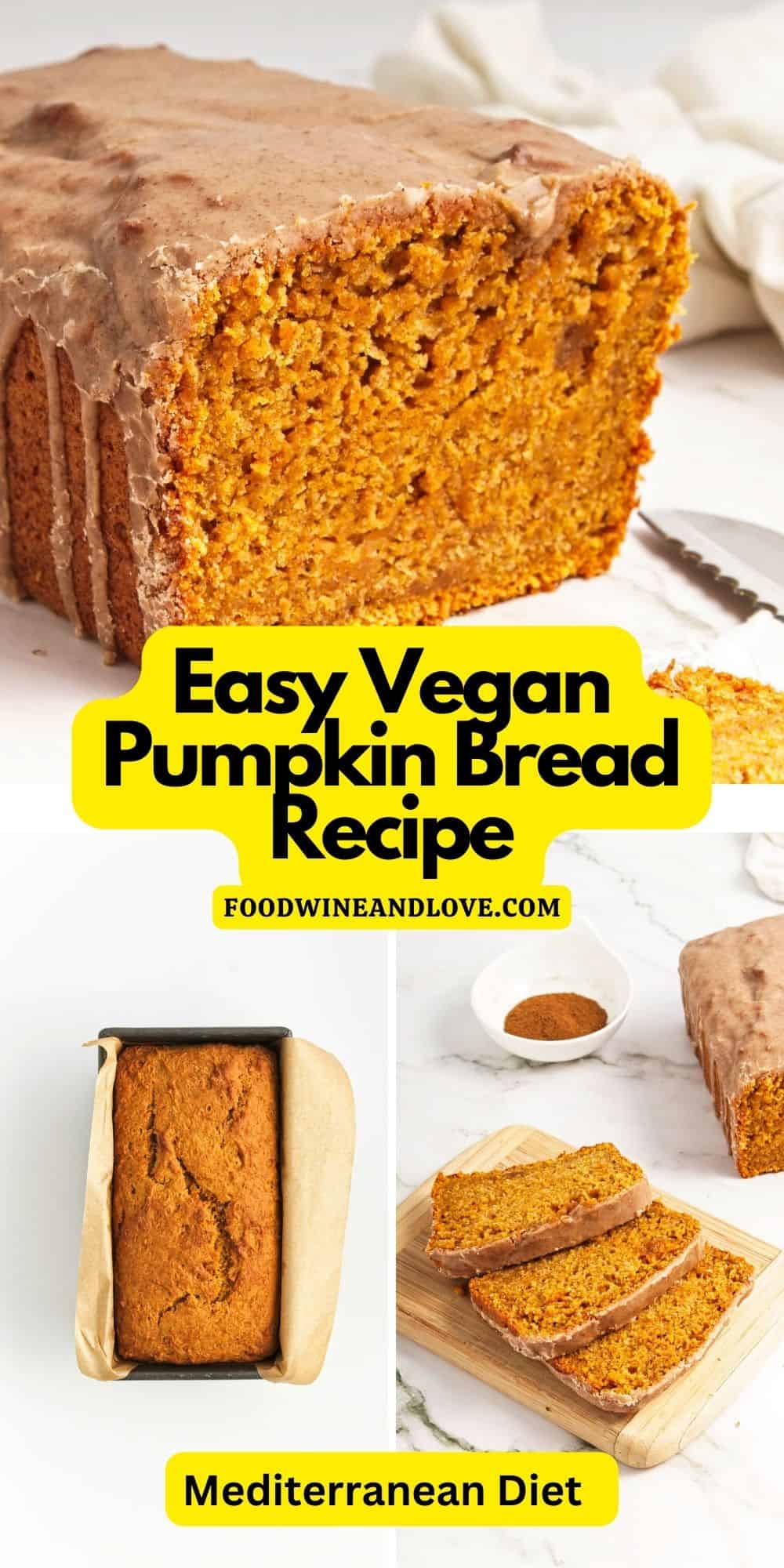 Easy Vegan Pumpkin Bread Recipe,
Easy Vegan Pumpkin Bread Recipe, a simple and delicious recipe made without added dairy. Includes a vegan glaze topping.
Ingredients
2

cups

Flour

2

tsp

Baking Powder

1

tbsp

Pumpkin Pie Spice

- adjusted as desired for flavor.

¾

cup

Light Brown Sugar

- packed

⅓

cup

Oil

- neutral oil

⅓

cup

Oat Milk

15

oz

Pumpkin Puree
Optional Glaze: powdered sugar (1c), pumpkin pie spice (1½tsp), and vegan milk (1-2tbsp, adjusted as needed).
Instructions
Preheat your oven to 350 and prep a loaf pan for nonstick.

In a medium bowl, use a whisk to combine together the flour, baking powder, and the pumpkin pie spice.

Next, in a mixing bowl, beat together the brown sugar, oil, oat milk, and pumpkin puree until creamy and smooth. Then stir in the dry ingredients, mixing until just incorporated.

Transfer the ingredients to your prepared loaf pan and bake for 55-65 minutes or until a toothpick comes out clean.

Allow the bread to sit in the loaf pan for a ten minutes before transferring it to a wire cooling rack to full cool before slicing and serving.

To make the optional vegan glaze, simply combine the ingredients until you reach your desired consistency. Then drizzle it over the bread and allow it to set in place.
Recipe Notes
*Please check the nutritional labels to assure that you are sticking to your diet restrictions for any substitutions used.
Also, please see the actual recipe post for further details on this recipe.
Nutritional Information is only an estimate and can vary especially with ingredients that are used.
To make this recipe fully vegan, please make sure that you are using fully vegan ingredients.
See Foodwineandlove.com for details on this recipe.
*As an Amazon Associate I earn from qualifying purchases. This means that the links on this website, and specifically on this post, that lead to other sites may be affiliate links.
Nutrition
Calories:
202
kcal
|
Carbohydrates:
33
g
|
Protein:
3
g
|
Fat:
7
g
|
Saturated Fat:
1
g
|
Polyunsaturated Fat:
2
g
|
Monounsaturated Fat:
4
g
|
Trans Fat:
0.02
g
|
Cholesterol:
1
mg
|
Sodium:
80
mg
|
Potassium:
131
mg
|
Fiber:
2
g
|
Sugar:
15
g
|
Vitamin A:
5530
IU
|
Vitamin C:
2
mg
|
Calcium:
75
mg
|
Iron:
2
mg
Please note: Nutritional data has been calculated using a tool that comes with this recipe card and not by me. This means that Nutritional Information is only an estimate and can vary especially with ingredients that you use. The accuracy of this tool may differ from other tools as expected. Also note that there is no instructional value to the video that may be attached to this recipe. It is only there for visual pleasure. For more information about the images in this recipe, please refer the the recipe instructions. Thank you!
---
Follow Me
Thanks so much for visiting!
You can follow me on Pinterest | Facebook | and Instagram.
Also, subscribe to my weekly newsletter!
If you decide to make this recipe, please stop back and let me know how it turned out for you. Also, if you have any tips or tweaks to the recipe to share, please do so in the comment section below. My readers like to stop by periodically for updates on the recipes. However, your tips and tricks are also helpful to others. As a result, please share them.
Looking for a recipe that is not on my site?
Please let me know and I will thus work on getting that recipe for you.
Happy baking, eating, and enjoying life!
Lastly, nutritional Information is only an estimate and thus, can however also, vary especially with ingredients that are used.