How to Make Vegan Caramel Sauce is something that I am glad to know about.
There are so many ways that you can use this vegan caramel sauce!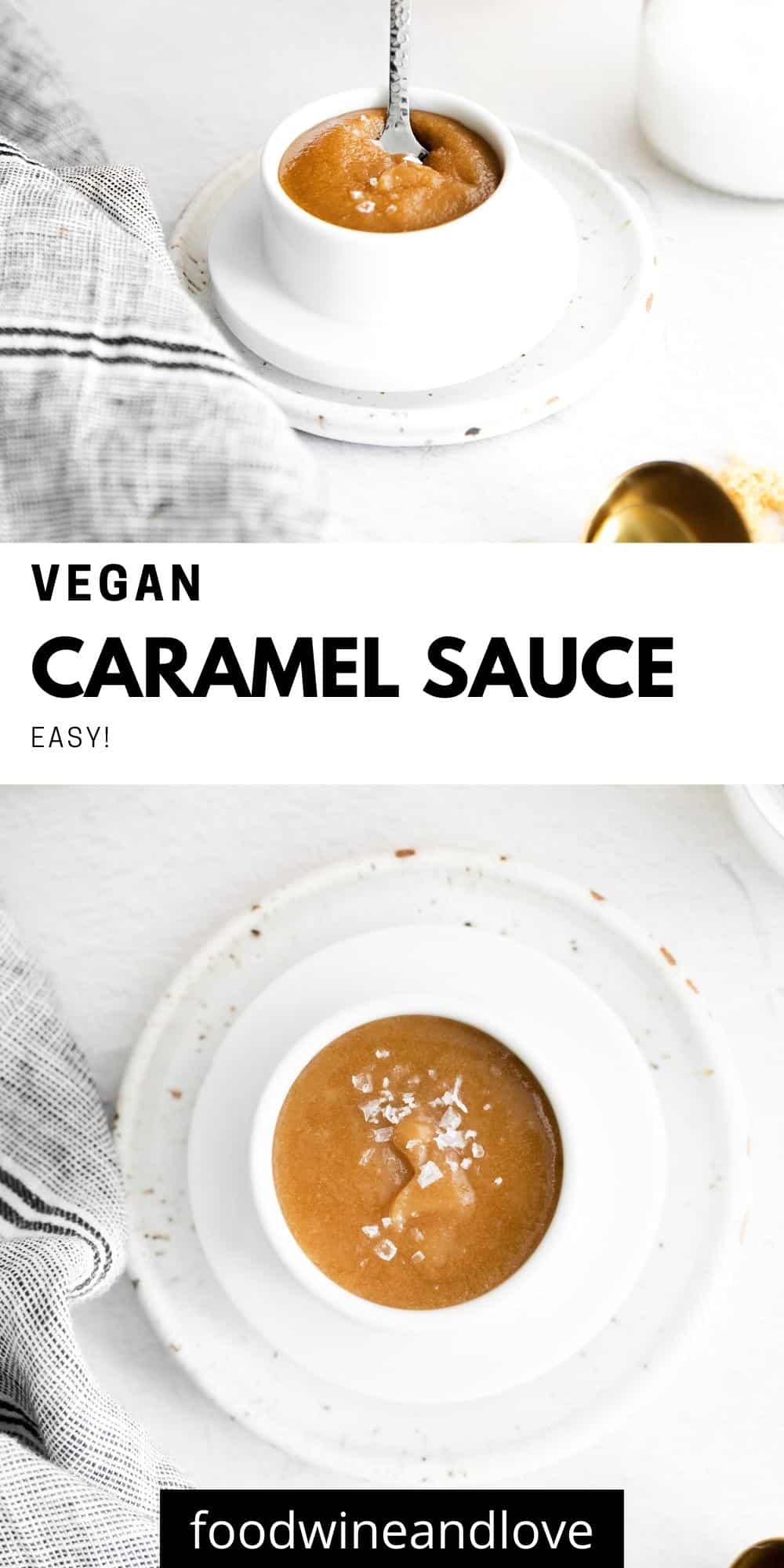 How to Make Vegan Caramel Sauce
This is a simple recipe that has so many uses.
I like how tasty this vegan caramel sauce is as well!
Did you try my recipe for Vegan Yogurt and Berry Parfait?
I am thinking that this vegan caramel sauce would probably taste good on top of that vegan yogurts and berry parfait. However, simply dipping apple slices in to this caramel sauce tastes pretty good too!!
Finding the perfect olive oil can be a pain!
Learn How to Choose the Right Vegan Milk for your recipes here.
People ask is caramel sauce vegan.
Like with any other recipe that you may make, it really depends upon the ingredients that are added. That is, if you only use vegan ingredients then the resulting recipe should be vegan.
This recipe for caramel sauce has no added dairy products in it.
Heavy cream or similar creams are often added to caramel sauce to provide a creamy texture that helps the caramel sauce flow perfectly on top of what you choose to put it on top of.
You may be wondering what is vegan caramel made of.
Since this is a vegan recipe there is no dairy added to it.
That means there is no heavy cream.
For this recipe, we will use coconut cream instead of heavy cream.

Coconut cream has a similar texture to heavy cream when it comes to using it in a recipe such as this one. Also, coconut cream adds a nice flavor to caramel sauce.
Tips for making Vegan Caramel Sauce.
This recipe calls for coconut cream as an alternative to a dairy cream.
Feel free to use a full fat coconut milk instead if you prefer to do so.
Here are some more great tips for you.
It is important to stir the coconut cream while it melts. Once it begins to bubble you can simmer it.
If you are using coconut milk, coconut cream is the solid white part that settles on the top of coconut milk. Make sure to use it, not the liquid below.
This caramel will become hard quickly as it cools and will lighten in color. To soften it up simply reheat the caramel sauce in the microwave, in a microwave safe container and stopping to stir every 15 seconds. as necessary. I put a paper towel lightly over it to prevent a splatter mess.
You can booze this recipe up to make it more fun if desired. Simple stir in a shot of bourbon to do so.
Here is how to make this a vegan keto vegan caramel sauce
This recipe calls for brown sugar. Brown sugar provides both flavor and a chemical reaction to make the caramel sauce.
To make this a keto recipe, you should use a brown sugar alternative that has a similar chemical reaction.
Allulose sweetener is a plant based sugar alternative that can work in this recipe.
You can also use xanthan gum instead of the cornstarch (same amount).
How to use vegan caramel sauce.
This vegan caramel sauce works great as a topping for desserts, fruit, oatmeal, muffins, or ice cream.
Or, you can simply stir it into beverages such as smoothies and coffees.
By the way, while you are here you may also be interested in these ideas.
Be sure to follow me on Pinterest| Facebook | and Instagram.
Also, subscribe to my weekly newsletter!

--KEEP SCROLLING--

How to Make Vegan Caramel Sauce

I suggest transferring this caramel sauce to a jar, such as canning type jar, once it has cooled. This will make it easy to heat up (if microwave safe jar) when it is needed again.

This keto and vegan caramel sauce should keep if covered and refrigerated.

If properly stored, this caramel will keep in the refrigerator for up to two weeks. Simply reheat the caramel in small batches in the microwave, stirring ever 15 seconds.

Ingredients needed to make vegan caramel sauce

Please choose vegan products by reading the labels on your ingredients.

How to make Vegan Caramel Sauce

Combine the brown sugar, cornstarch, and coconut cream in a small saucepan over medium heat. Bring the mixture to a boil and cook until the sugar has fully dissolved- about two minutes. Be sure to stir continuously while it heats.
Reduce the heat and allow the mixture to simmer for 5 minutes, or until it starts to thicken slightly. If you have a candy thermometer, it should be just below the soft ball point. Stir this as needed.
Remove the caramel from the heat and add the vanilla extract, salt, and bourbon (if using). Transfer the caramel to an airtight container and store in the fridge until ready to use. This caramel will keep in the fridge for up to two weeks.

Thanks so much for visiting!

If you decide to make this recipe, please stop back and let me know how it turned out for you. Also, if you have any tips or tweaks to the recipe to share, please do so in the comment section below. My readers like to stop by periodically for updates on the recipes. Reading the comments below is helpful to these readers and hopefully to you too!!

Looking for a recipe that is not on my site?
Please let me know and I will on getting that recipe for you.
Happy baking, eating, and enjoying life!

Nutritional Information is only an estimate and can vary especially with ingredients that are used.

How to Make Vegan Caramel Sauce a simply recipe for how to make the perfect sauce for desserts without added dairy.

How to Make Vegan Caramel Sauce

How to Make Vegan Caramel Sauce a simply recipe for how to make the perfect sauce for desserts without added dairy. Keto, low carb, sugar free option.

Ingredients

Brown Sugar– 1 cup.

Cornstarch – 1 tablespoon.

Coconut Cream – ½ cup

Vanilla Extract– 1 teaspoon.

Sea salt or Kosher salt– as needed to taste.

Instructions

Combine the brown sugar, cornstarch, and coconut cream in a small saucepan over medium heat. Bring the mixture to a boil and cook until the sugar has fully dissolved- about two minutes. Be sure to stir continuously while it heats.

Reduce the heat and allow the mixture to simmer for 5 minutes, or until it starts to thicken slightly. If you have a candy thermometer, it should be just below the soft ball point. Stir this as needed.

Remove the caramel from the heat and add the vanilla extract, salt, and bourbon (if using). Transfer the caramel to an airtight container and store in the fridge until ready to use. This caramel will keep in the fridge for up to two weeks.

Recipe Notes

I suggest transferring this caramel sauce to a jar, such as canning type jar, once it has cooled. This will make it easy to heat up (if microwave safe jar) when it is needed again. This keto and vegan caramel sauce should keep if covered and refrigerated.

If properly stored, this caramel will keep in the refrigerator for up to two weeks. Simply reheat the caramel in small batches in the microwave, stirring ever 15 seconds.

See post for sugar free, keto, low carb option.

*As an Amazon Associate I earn from qualifying purchases. This means that the links on this website, and specifically on this post, that lead to other sites may be affiliate links.

Nutrition

Serving:

1

g

|

Calories:

158

kcal

|

Carbohydrates:

33

g

|

Fat:

3

g

|

Saturated Fat:

3

g

|

Sodium:

125

mg

|

Sugar:

32

g

Please note: Nutritional data has been calculated using a tool that comes with this recipe card and not by me. This means that Nutritional Information is only an estimate and can vary especially with ingredients that you use. The accuracy of this tool may differ from other tools as expected. Also note that there is no instructional value to the video that may be attached to this recipe. It is only there for visual pleasure. For more information about the images in this recipe, please refer the the recipe instructions. Thank you!

---

Follow Me