The Best Mediterranean Diet Recipes for spring.
Perfect healthy food recipes that are friendly to the Mediterranean diet for right now.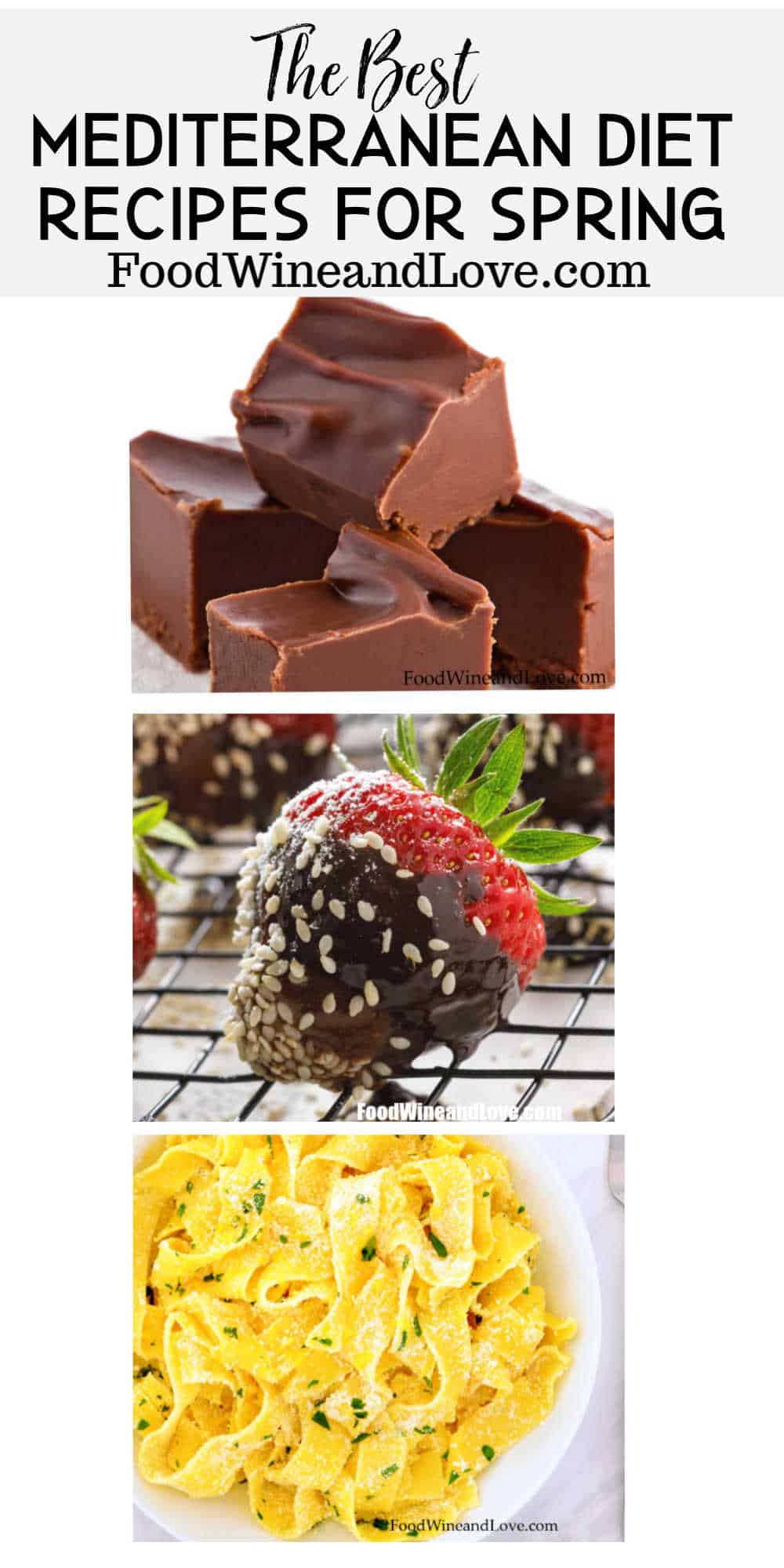 Best Mediterranean Diet Recipes
This volume of the Best Mediterranean Diet recipes is especially for the spring season.
It focuses on the delicious food that is fresh during the spring season.
Many of these recipes will actually work any time of the year.
This is especially true if you live in location that has availability of the food year round.
While many of these recipes are not necessarily specific to the Mediterranean regions of the world, they are however friendly to the Mediterranean diet itself.
Do you want to learn more about the Mediterranean Diet?
Find out how to follow the Mediterranean Diet here.
Possibly the most popular question of the diet is what is not allowed on the Mediterranean diet.
To be honest, the diet is largely all about the moderation of food.
By moderation, I mean eating more of the fresh fruits and vegetables and less of the meats, sugars, and processed stuff.
Here is what is not allowed on the Mediterranean diet, or allowed in moderation.
I mentioned processed stuff, such as many snack foods (which most diets would agree should be avoided).
Other foods to avoid on the Mediterranean diet include refined sugar, refined grains (white flour etc) and non-vegetable based oils.
Be sure to follow me on Pinterest| Facebook | and Instagram.
Also, subscribe to my weekly newsletter!

--KEEP SCROLLING--
Here are some Tips for starting the Mediterranean diet right now.
I just mentioned that the diet is largely about moderation. Moderation means eating less of certain foods.
Here are some more great tips for you.
Take advantage of fresh fruits and vegetables by incorporating them into every meal and snack.
Opt in for whole grain products such as whole grain breads and whole grain pastas.
I post many recipes that are not necessarily from the Mediteranean region of the world. However, they do incorporate the Mediterranean diet fresh fruits and vegetables, which makes them Mediterranean diet friendly.
Best Mediterranean Diet Recipes for spring.
Let me start with an easy one that I am posting for the first time.
This is a simple recipe with simple ingredients. Yet, it is a favorite recipe for so many of us!
The Easiest Ever Pico De Gallo.
Dip my Whole Wheat Garlic Toasted Chips in this or top my Yummy Vegan Black Bean Burger with this easy Pico recipe!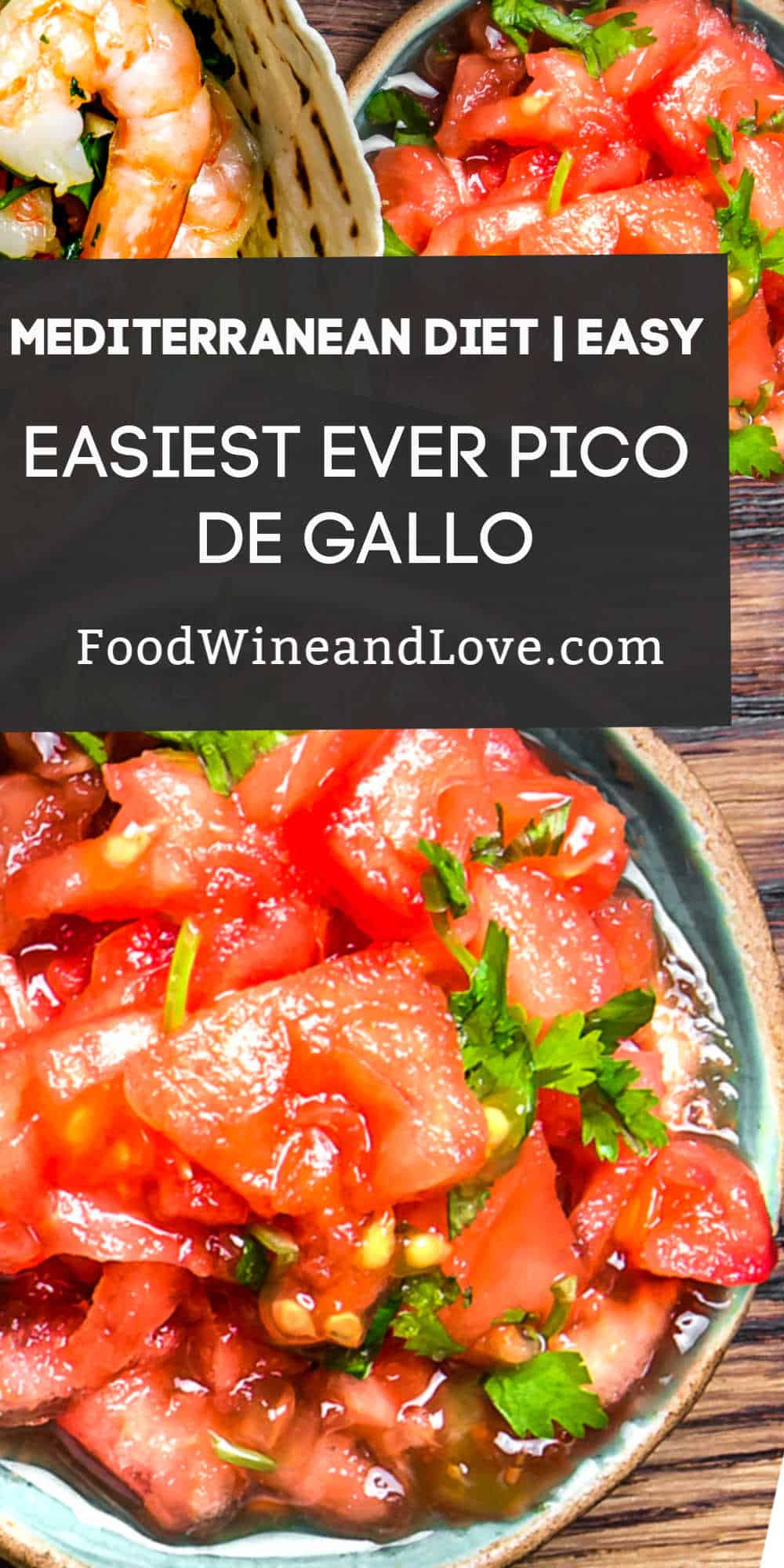 This is one of those recipes that I just mentioned.
While this recipe is not necessarily from the Mediterranean region of the world, it does, however, incorporate foods that are from that area.
As a result, this recipe is friendly to the Mediterranean diet.
The ingredients needed to make The Easiest Ever Pic De Gallo.
Tip: purchase diced tomatoes with ingredients already added to it to make this recipe even easier!
How to make Easy Pico De Gallo
Combine the ingredients together in an empty jar or bowl.
Season to taste.
Refrigerate for at least two hours before serving.
As I just mentioned, dip my Whole Wheat Garlic Toasted Chips in this or top my Yummy Vegan Black Bean Burger with this easy Pico recipe!


Avocado, Apple, and Spinach Salad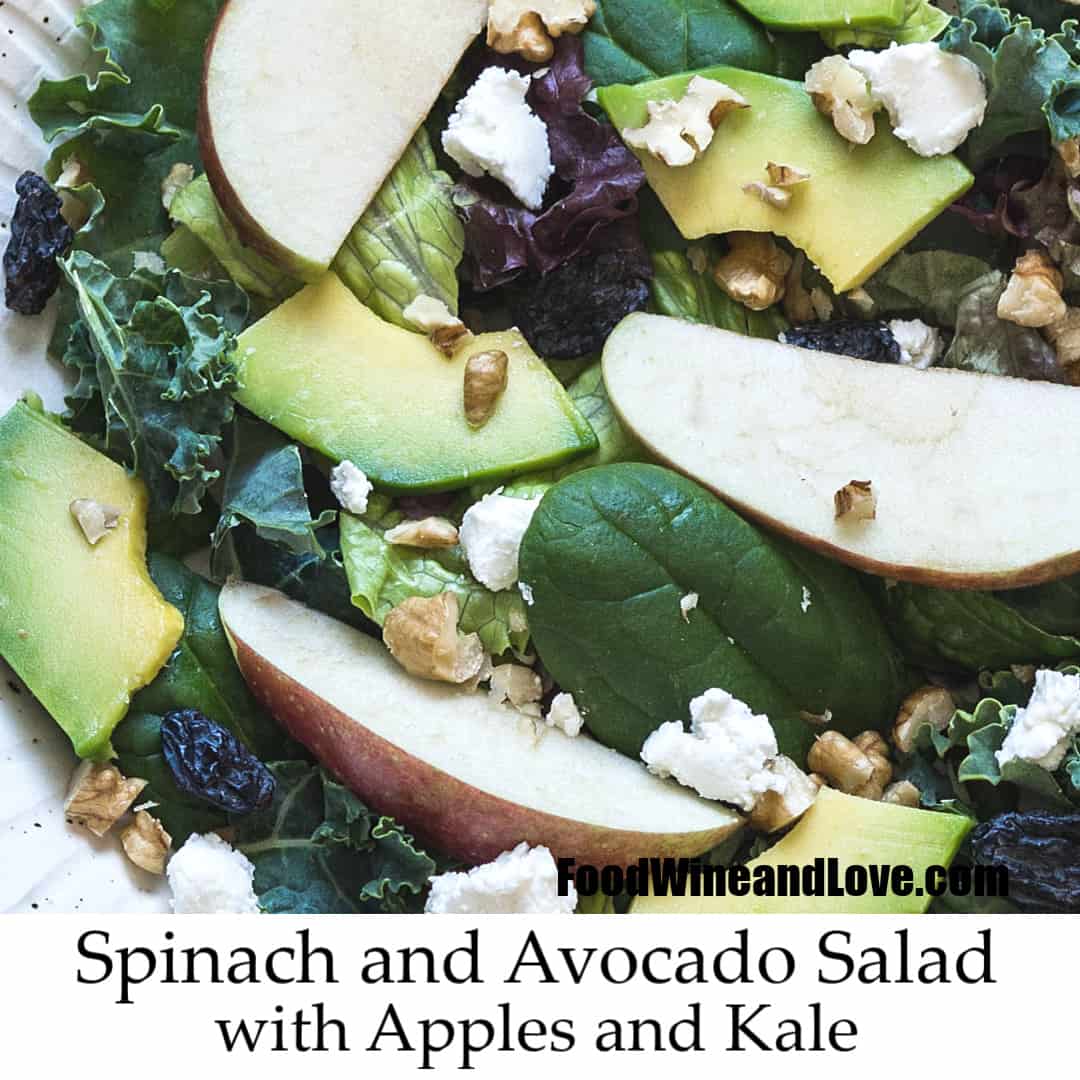 What I like best about this Avocado Apple and Spinach Salad is that you can add so much more than those three ingredients. I also like that this is a salad of great flavors that work so well together.
Easiest Greek Salad in Vinaigrette Salad
This really is one of the Easiest Greek Salad in Vinaigrette Dressing recipe ever. I like how delicious this tastes as well!
Vegan Banana Oatmeal Muffins
Not only do these Flour Free and Vegan Banana Oatmeal Muffins taste good, but they are also friendly to the Mediterranean diet! These tasty muffins are good enough to share as well!
This simple recipe for a Mediterranean Diet Lemon Pepper Salmon really has an amazing taste. I especially enjoy the flavor that the lemon and pepper bring to the salmon in this recipe.
This recipe for Mediterranean Style Chicken Piccata is easier to make that I thought it would be. I like that this recipe features the great taste of lemon in it too!
I am really happy about this recipe for Easy Pasta in Lemon Sauce. This is because not only am I a fan of the 'easy', I am also a fan of pasta.
You could easily call this recipe for Mediterranean Diet Friendly Chocolate Dipped Strawberries a healthy one. The reasoning behind this is because we are including heart-healthy dark chocolate with a delicious berry to make this yummy treat.
I was surprised at how good this Chocolate Fudge Made With Avocado looks and tastes. Adding avocado to this fudge recipe really adds to the flavor and texture of this fudge.
Thanks so much for visiting!
If you decide to make any of these recipes, please stop back and let me know how it turned out for you. Also, if you have any tips or tweaks to the recipe to share, please do so in the comment section below. My readers like to stop by periodically for updates on the recipes. Reading the comments below is helpful to these readers and hopefully to you too!!
Looking for a recipe that is not on my site?
Please let me know and I will on getting that recipe for you.
Happy baking, eating, and enjoying life!
Nutritional Information is only an estimate and can vary especially with ingredients that are used.
These Best Mediterranean Diet Recipes for Spring. Enjoy these delicious recipes including vegan, healthy, and chicken recipe.